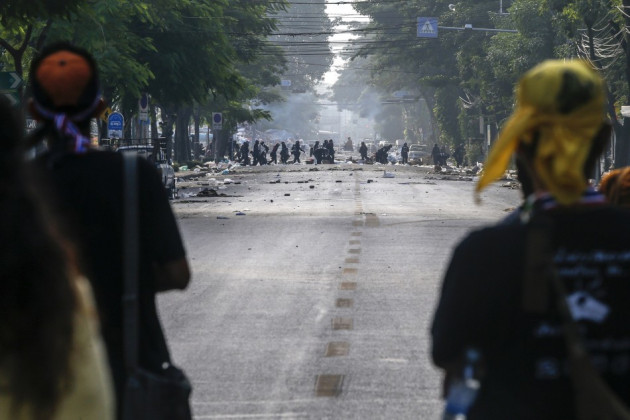 Anti-government protesters have declared victory against Thai Prime Minister Yingluck Shinawatra after the authorities removed barricades around the police compound in Bangkok, allowing access to the demonstrators.
Protesters were seen shouting slogans against the government announcing their moral triumph as part of their campaign to dislodge Yingluck.
"Victory is ours after the long fights and protests," opposition activist Sathit Wongnongtoey announced from a stage.
The police chief told his men not to use force against the protesters even if they enter and destroy the Metropolitan Police Bureau (MPB) compound.
"The office belongs to the public and it was built with their tax money," said Bangkok police chief Kamronwit Thoopkrachang.
He also said the protesters were welcome to stay inside the compound indefinitely and vowed to protect them from any violence emerging from a "third party".
However the campaigners did not enter the MPB, fearing it could be a trap to capture the main opposition leader Suthep Thaugsuban.
Police earlier distributed leaflets suggesting Suthep would soon be detained as an arrest warrant has been issued by a court over the protests.
Warning against Suthep's arrest, Sathit said: "Listen carefully, if Khun Suthep is arrested, don't underestimate the protesters. The bureau is near the Government House. Think twice before doing anything."
Four people have so far been killed during the agitation, two of them shot dead. Neither the police nor the protesters were seen armed during the protests, which remained largely peaceful until last weekend, as the blame fell on a third party or a fringe group.
Meanwhile, even as the protests enter the tenth day, Yingluck remains determined not to step down.
The protests began against a controversial amnesty bill, which, the opposition claims, intends to bring back former prime minister and Yingluck's brother Thaksin Shinawatra from his self-imposed exile.