Thailand's controversial Tiger Temple, situated west of Bangkok, is struggling to keep its tigers, after the country's wildlife department rejected its bid to extend its zoo licence. Calling itself a Buddhist temple, the Tiger Temple is home to 137 "tame" tigers and has been investigated for suspected links to wildlife trafficking, and activists have long accused the temple of illegal breeding.
The temple, which advertises itself as a wildlife sanctuary, and denies links to illegal trafficking, is a huge tourist attraction, visitors are able to walk into the creatures' cages and stroke them without being harmed, causing great speculation as to whether the tigers are drugged.
One source claimed that upon visiting the Tiger Temple in 2010, the animals were lying around in "various states of consciousness" and appeared to be sedated. They continued, saying that some of the workers were able to turn the big cats on to their backs in order to get them in a more photogenic position, while a colleague sprayed water in their faces so that the tigers would look at the tourists cameras.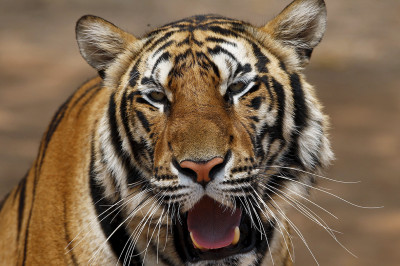 Some of the tigers have already been removed from the Wat Luang Ta Bua foundation, as the temple is known in Thai, after it was heard that it supplies the black market and mistreats the creatures. Five tigers were seized in January by the Department of National Parks, Wildlife and Plant Conservation and were taken into conservation centres in Thailand's central Ratchaburi province.
In February, another five were removed and were taken to another wildlife sanctuary. Yet Suiting Pakdijarung, the deputy chairman of the Tiger Temple, says that he won't allow this to continue, and that the government will struggle to care for the tigers and that they should be kept at the temple.
"I disagreed (to move tigers out) because they were born here. This is their home. They are happy here. They (the wildlife conservation department) want to move them out according to the law. But the government have to find budgets to take care of them. Here (in the temple), the money comes from donations. It is about giving, and generosity," he said.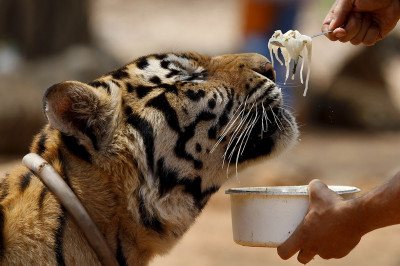 The Wildlife Conservation Department responded to Suiting's remarks by saying that it will confiscate all tigers as the temple gives a bad reputation to the country's tourism industry.
"The world is looking at us, there are allegation of inbreeding these tigers, of missing tigers. The temple wouldn't let the authorities to their duties. We are doing our job. It looks like one organization has power over the law. That's how the world looks at us. Part of the temple has an impact on Thai tourism," said director of National Parks, Wildlife and Plant Conservation in Thailand, Teunchai Noochdumrong.
Successive governments have rolled out campaigns aimed at curbing the trade in illegal wildlife with varying degrees of success.