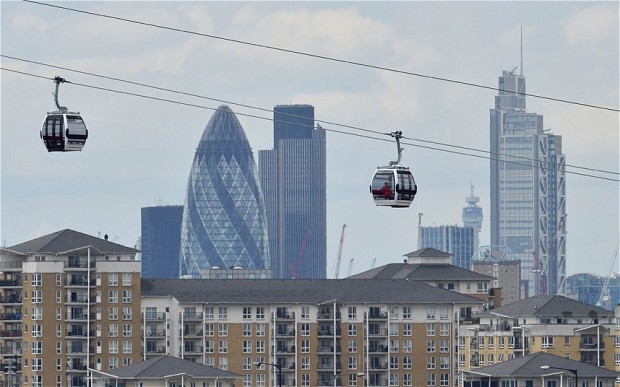 Dozens of passengers on the new cable car service across the River Thames in London were left dangling hundreds of feet in the air in searing temperatures as "technical difficulties" caused a breakdown just one month after the service was opened to the public.
Thirty cars carrying about 60 passengers on the Emirates Air Line came to a sudden stop shortly before midday.
"We would like to apologise to anyone affected," Danny Price, the head of Emirates Air Line service, said.
It took half an hour before stranded passengers had their feet back on terra firma, Price said. They were given water and offered first aid.
He said the problem was caused by a faulty sensor and not the heat.
"So according to someone working here, the Emirates AirLine might have problems when its over 30 degree Celsius," tweeted passenger Cassam Looch.
Another stranded passenger, David Verrall, described it as a "horrible experience" and lashed out at Emirates for a lack of information.
"I don't do heights but wanted to take family for the experience. Never again," Verrall wrote.
Others took a lighter tone.
"Emirates cable car turned out to be great school holiday mini-adventure - greeted with apologies and water as we landed," tweeted Alastair Owens.
The £44m service opened on 28 June and boasts a maximum capacity of 2,500 people each way an hour.
At the highest point cars hang 305ft in the air. The line extends for a kilometre to link the north and south sides of the river.
"It is a staggeringly beautiful view of London. It is a panorama of the most opportunity-rich area of the city and people are already showing a real interest in buying into it," Boris Johnson, London's mayor, said when he opened the link.
"People are coming from all over the world for the Olympics and I want them to see the areas they can invest in.
"As the world's eyes focus on our city, I can think of no better message to send out across the globe."