Margaret Thatcher RIP: MPs Praise and Bury Iron Lady in Parliamentary Recall
Houses of Commons and Lords ring to praises and condemnation of architect of Thatcherism.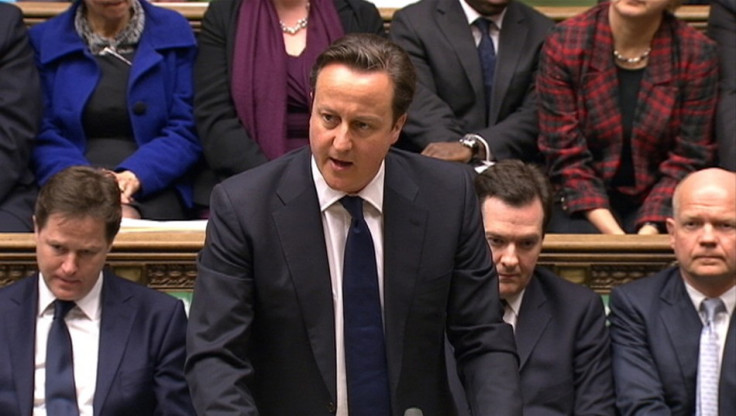 MPs returned from their Easter holidays to attend a special parliamentary session to either praise or bury Margaret Thatcher.
Prime Minister David Cameron led the tributes by describing the late Iron Lady as an "extraordinary leader".
"Let this be her epitaph: That she made our country great again," he told a packed House of Commons.
"She defined and she overcame the great challenges of her age and it is right that parliament has been recalled to mark our respect."
A number of MPs stayed away from the occasion in protest. Former housing minister and Labour MP John Healey accused Cameron of using the session for political purposes.
He told the BBC: "Parliament is being used for narrow political gain by the prime minister, as a platform for his party's ideology, not just eulogy. He's wrong to recall parliament, and wrong to hijack it in this way."
In the House of Lords, her loyal former enforcer Lord Tebbit said of the 1990 Tory coup that deposed her: "She was left at the mercy of her friends."
Labour leader Ed MIliband delivered a measured speechy which supporters will label statesmanlike and critics will say shows how far Labour has drifted from its base.
He called Thatcher "a unique and towering figure ... the prime minister who defined her age".
He cast a shadow on proceedings by speaking of "angry and abandoned" communities hit by pit closures in the 1980s and raised the spectre of her government's Section 28 order that stigmatised homosexuality in the 1980s.
Labour grandee Glenda Jackson then waded with a searing indictment of the impact Thatcher's policies had had upon communities.
She was roundly booed on the overnment benches for accusing the Thatcherism of wreaking "heinous social, economic and spiritual damage" on parts of the country.
The MP for Hampstead and Kilburn accused Thatcher of promoting "greed, selfishness and no care for the weaker".
Scottish politicians gatecrashed the tributes by attacking the poll tax - the infamous levy which convinced Tory rebels at the time that she had lost her political touch and which contributed to her downfall.
Scottish Nationalist party member Angus Robertson said the SNP would "never forget and never forgive" the measure for being rolled out in Scotland a year before the rest of the UK.
He called her "a formidable politician".
READ:
Margaret Thatcher Consumed: Relics from the Age of the Iron Lady
Margaret Thatcher's Funeral: Public Can Afford £9m Service, Says William Hague
© Copyright IBTimes 2023. All rights reserved.