'There is no evidence Potus colluded with Russia' Trump tweets ahead of Comey testimony
President sent a series of tweets hours before a house committee probes Russia's election meddling.
Donald Trump sent a flurry of tweets in an attempt to discredit claims of collusion between his campaign and Russia during the 2016 election campaign.
The posts from the 45th President of the United States came just hours before FBI Director James Comey is set to appear in the first public congressional hearing looking into Moscow's alleged meddling in the election campaign. Both Trump and White House officials have rejected the reported ties.
"James Clapper and others stated that there is no evidence Potus colluded with Russia. This story is FAKE NEWS and everyone knows it!" Trump tweeted.
Reverting to his now familiar sore-loser strategy, the Republican took aim at his political rivals in a follow-up. "The Democrats made up and pushed the Russian story as an excuse for running a terrible campaign. Big advantage in Electoral College & lost!" Trump posted.
"The real story that Congress, the FBI and all others should be looking into is the leaking of Classified information. Must find leaker now!" the president concluded.
Both Comey and National Security Agency (NSA) Director Mike Rogers will testify before the House Intelligence Committee today (20 March).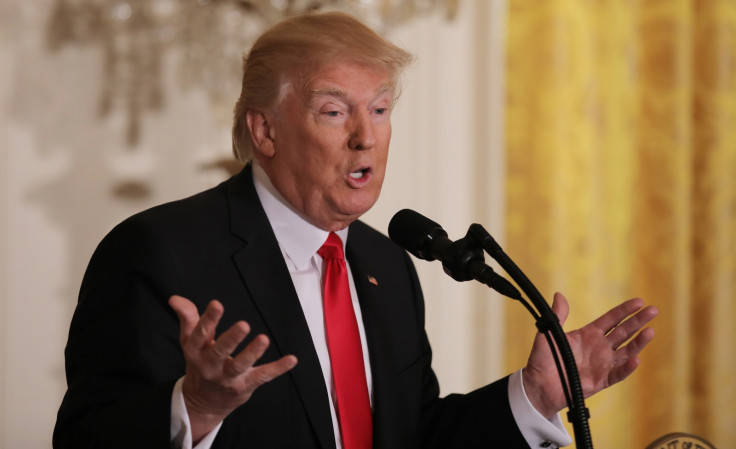 With all eyes fixed firmly on the testimonies, Trump's unsubstantiated claim that his predecessor ordered the wiretapping of Trump Tower during the election is set to be a key act in the political drama. Trump has offered no evidence to support his claim – despite his repetitions of them.
According to CNN, Trump's latest series of tweets on Russian meddling was an attempt to "shift attention away from the wiretapping claims".
After a fortnight of insistence on the wiretapping claims, Comey is expected to debunk them "within minutes" of the highly anticipated hearing, ABC News reported on Sunday (19 March).
If he does, it would come on the back of a furious rejection from the UK's communications intelligence agency that it helped Barack Obama wiretap his successor. GCHQ called the allegations by White House Press Secretary Sean Spicer "nonsense" said the "utterly ridiculous" claims "should be ignored".
The gravity of possible interference in the US presidential race is so serious that intelligence committees in both chambers of government are investigating the matter.
On Sunday, Devin Nunes, the head of the House of Representatives intelligence committee said there is "no evidence" to suggest the Trump campaign colluded with Russia.
However, according to Adam Schiff, the top Democrat on that Committee, there are sufficient grounds to conduct an investigation.
"I would characterise it this way: At the outset of the investigation, there was circumstantial evidence of collusion," said Schiff. "There was direct evidence, I think, of deception."
The Trump camp repeatedly denied there was contact between campaign aides and Kremlin officials, but NSA adviser Michael Flynn was forced to resign last month after it emerged that he misled Vice-President Mike Pence and others about his conversations with Russia's US ambassador, Sergey Kislyak.
In a second blow, Attorney-General Jeff Sessions – who testified that he "did not have communications with the Russians at his January confirmation hearing – recused himself from investigations related to the 2016 presidential campaign.
Sessions did so after it emerged that he had met twice with Kislyak during the campaign and while Democrats accused him of lying under oath, the attorney-general resisted calls to resign.
Comey is scheduled to go before the House Intelligence Committee at 10am Eastern Time (2pm GMT).
© Copyright IBTimes 2023. All rights reserved.