Theresa May and DUP reach £1bn deal to prop up minority government
PM agrees terms with party to support government following weeks of hung parliament.
The DUP has agreed a deal to support the minority Conservative government following two weeks of negotiations.
The £1bn (€1.1bn) confidence and supply agreement over the next two years will allow Theresa May to stay on as prime minister, but will not be a formal coalition.
Instead, the deal between the two parties will focus on Brexit negotiations and financial support for Northern Ireland. The DUP has also agreed to back the government on all key votes in the House of Commons.
Also, as part of the deal Theresa May, has agreed to drop triple lock pension reforms and to keep the universal winter fuel allowance. May also agreed to deliver 2% of GDP to Northern Ireland's armed forces.
The deal will also include providing "new flexibilities" on almost £500m previously committed to Northern Ireland by the government.
Speaking outside 10 Downing Street following confirmation of the deal, Foster said: "Following the general election results and the mandate given to us by the people of Northern Ireland we have been in discussions with the Conservative and Unionist Party as to how we can support a minority Conservative government in parliament.
"Today we have reached an agreement with the Conservative party on support for Government in parliament. This agreement will operate to deliver a stable government in the United Kingdom's national interest at this vital time."
Foster added that both parties have reached an agreement that is "good for the United Kingdom, good for Northern Ireland and allows our nation to move forward to tackle the challenges ahead".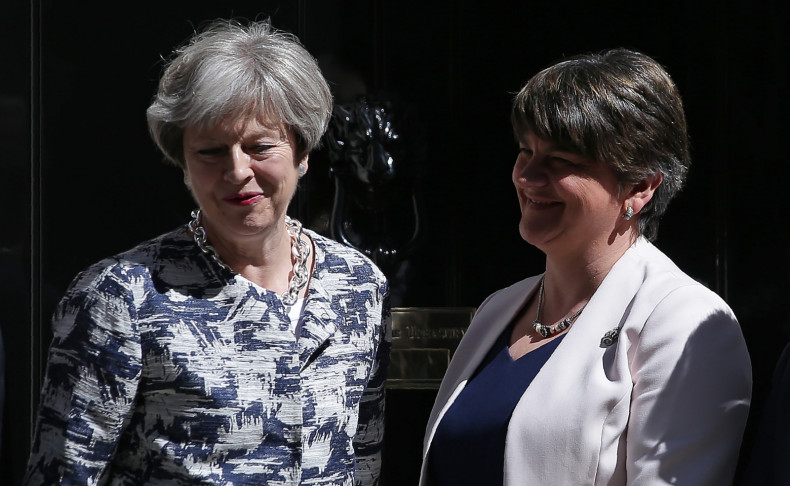 May added in a statement to the DUP: "As we set out at the beginning of the talks, we share many values in terms of wanting to see prosperity across the UK, the value of the union, the important bond between the different parts of the United Kingdom.
"We very much want to see that protected and enhanced and we also share the desire to ensure a strong government, able to put through its programme and provide for issues like the Brexit negotiations, but also national security issues.
"So the agreement we have come to is a very, very good one, and look forward to working with you."
May went into talks with the Northern Ireland party following the last general election, in which failed to achieve an overall majority. The Tories lost 13 seats in total and fell short of a majority by nine.
Former Conservative prime minister John Major was one of the more high-profile names that warned May against striking a deal with the DUP, saying it could out the jeopardise the Northern Ireland peace deal if the government is seen to side with one of the parties involved. Others have spoken out against the DUP's stances on issues such as gay rights and abortion.