Theresa May blocked a call by then Prime Minister David Cameron to grant residency rights to the more than three million EU nationals living in the UK immediately after the 2016 Brexit vote, George Osborne has claimed.
The former Conservative chancellor, who now edits the London Evening Standard, said all of Cameron's cabinet agreed to the unilateral offer apart from May, then home secretary.
"Last June, in the days immediately after the referendum, David Cameron wanted to reassure EU citizens they would be allowed to stay," the Standard editorial said.
"All his Cabinet agreed with that unilateral offer, except his Home Secretary, Mrs May, who insisted on blocking it.
"A vote in the Commons earlier this year was only carried with a nod and a wink to Tory MPs behind the scenes that she didn't really mean it.
"Since then, the Government has lost its majority and it seems likely that an opposition motion to grant EU citizens the right to remain unilaterally could be carried."
Cameron, despite announcing his resignation on the morning of 24 June, stayed on in Number 10 until 13 July, when May assumed office. The UK began the two-year-long divorce talks with the EU on Monday 19 June, with both parties promising to prioritise the future of EU nationals in the UK and Britons on the continent in the negotiations.
EU nationals residing in the UK for five years could get a "settled EU status", May announced on Thursday evening. The prime minister made the "fair and serious" offer to EU leaders in Brussels as part of Brexit negotiations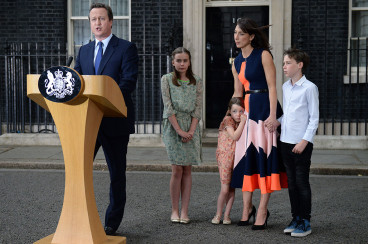 "The UK's position represents a fair and serious offer, one aimed at giving as much certainty as possible to citizens who have settled in the UK, building careers and lives and contributing so much to our society," she said.
Reacting to Osborne's claims, Liberal Democrat Brexit spokesman Tom Brake MP said it was a "badge of shame" that May apparently blocked attempts to guarantee the rights of EU nationals in the UK.
"It shows how cold and heartless she is," he said. "Now that mean-spirited decision is coming back to haunt her as we see an exodus of skilled EU workers, from nurses to academics.
"Simply setting out vague assurances without giving a clear guarantee or sufficient resources for the Home Office is not good enough.
"People who have made their lives here shouldn't have to face a bureaucratic nightmare to apply to stay, or see their applications arbitrarily rejected.
"We urgently need a new, streamlined process that gives all EU nationals who have made the UK their home an easy route to permanent residency."