Theresa May sat in on the House of Lords as the peers began to debate the government's Article 50 bill, in a rare move on Monday evening (20 February).
The British prime minister was joined by House of Commons leader David Lidington on the steps of the throne in the upper chamber.
The message, although silent, was clear: the directly elected House of Commons overwhelmingly passed the draft legislation to trigger Brexit talks and the unelected Lords should follow suit.
Conservative Baroness Natalie Evans, the leader of the House of Lords, opened proceedings.
"This House passed a bill to deliver a referendum without placing conditions on the result," she said.
"On 23 June 2016, the British people delivered their verdict. My Lords, this bill is no about revisiting that debate."
Baroness Angela Smith, leader of the opposition in the Lords, promised not to "block wreck or sabotage the legislation before us", but she confirmed the 202-strong Labour peers would seek to amend the Article 50 bill.
Giving Parliament a "meaningful" vote on the final Brexit deal and protecting the rights of EU nationals in the UK are among Labour's amendments.
"This is a defining moment for our country," Smith added. "We need to draft a new vision for our role in the world... that gives hope to young people."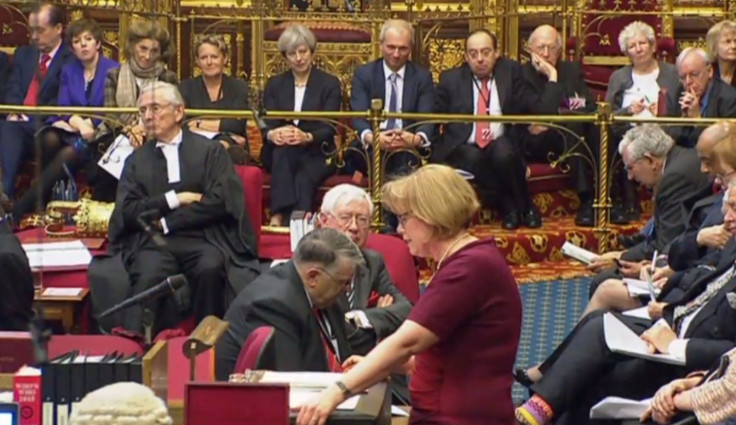 The second reading of the Article 50 bill will conclude on Tuesday evening, with the peers voting on the draft legislation if they do not want to allow the Government bill to pass through Parliament untouched.
Lord Dick Newby, Leader of the Liberal Democrats in the House of Lords, branded the government's approach to Brexit as "nothing short of disastrous" in a call for a second EU referendum.
"For those of us for whom Europe has been a central theme of our entire political lives, to sit on our hands in these circumstances is both unthinkable and unconscionable," he said.
"We now have a country more deeply divided on Brexit than ever. The anger of those who wanted to leave is now matched by the growing anger of those who wish to remain – particularly young people.
"If, at the end of this process, we are to come together as a country, we need to dissipate this anger. We believe that giving the people the final say will help to do so."
May has promised to invoke Article 50 and trigger divorce talks with the EU by the end of March.