Theresa May on Saudi trade talks: UK tradition of defending human rights is still there
UK prime minister is set to meet Saudi Arabia's King Salman a week after triggering Brexit talks.
Theresa May has been forced to defend her trade talks with Saudi Arabia after a backlash over the Middle East nation's human rights record. The UK prime minister, speaking in Jordan, said her country's ties to Saudi Arabia are "very important" for security and economic reasons.
"We have no difficulty in raising hard issues with those that we meet, whether it be in Saudi Arabia or elsewhere around the world. What matters is that we have the relationship of engagement that enables us to do that," she told Sky News.
"But we will also be talking about the very important relationship the UK has with Saudi Arabia, an important relationship in terms of trade but also in terms of security. Saudi's cooperation with us has helped to save lives in the UK."
May added: "The strong British tradition of standing up for human rights is there, the strong British tradition of standing up for the British national interest is there. I want to see the United Kingdom as a truly global Britain, outward looking around the world."
The prime minister's comments come after Amnesty International UK urged May to tell Saudi Arabian leaders that their human rights record is "totally unacceptable".
"Torture, grossly unfair trials and the use of the death penalty are rampant in Saudi Arabia, while reckless Saudi-led coalition air strikes in Yemen are causing endless death and destruction," said Allan Hogarth, head of policy and government affairs for Amnesty International UK.
"The security of those Yemeni civilians, who are being killed and injured by these reckless air strikes, must be on the agenda."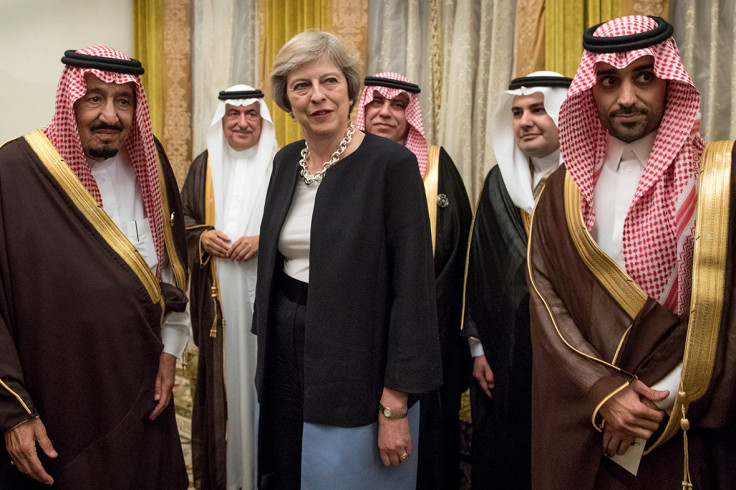 Prime Minister Theresa May meets King Salman (L) in Manama, Bahrain
Stefan Rousseau
May is planning to visit Riyadh today (4 April) to meet King Salman.
The summit comes just a week after the Conservative premier triggered two-year-long Brexit talks with the EU by invoking Article 50 of the Lisbon Treaty.
The prime minister, speaking at Lancaster House in January, said she would not seek to maintain the UK's membership of the EU's single market.
The UK government is also hoping to broker a bespoke customs agreement with Brussels so that Whitehall can make its own free trade deals.
"Whatever deals Mrs May secures during her time in Riyadh, there should be one business arrangement that is immediately suspended – the sale of all UK arms to Saudi Arabia that could be used to carry out yet more atrocities in Yemen," Hogarth added.
"With civilian deaths in Yemen mounting ever higher, ministers should long ago have halted arms sales to Saudi Arabia – instead they've buried their heads in the sand."
© Copyright IBTimes 2023. All rights reserved.