Prime Minister Theresa May has signed the letter which will formally begin Britain's departure from the European Union.
The letter – which will be delivered to European Council President Donald Tusk on Wednesday (29 March) – formally gives notice of Britain's exit under Article 50.
The letter will be hand-delivered by British ambassador to the EU, Sir Tim Barrow, at 12.30pm BST, kicking off two years of negotiations between Britain and the bloc.
May signed the historic letter in the cabinet office underneath a portrait of Robert Walpole, Britain's first prime minister, with the Union Jack hanging by her side.
After the letter is delivered to Tusk, the prime minister will give a statement to Members of Parliament where she will promise to use her "fierce determination" to get the best Brexit deal for everyone in the UK, including the more than three million EU nationals in the country.
She will also try to unite the country, saying "it is time to come together", but her message will come at a deeply divided time for Britain.
On Saturday (25 March), hundreds of thousands of demonstrators marched in London to make their opposition to Brexit heard, hoping to send a strong message to May.
Others, however, will rejoice when Article 50 is triggered, calling the day "Independence Day".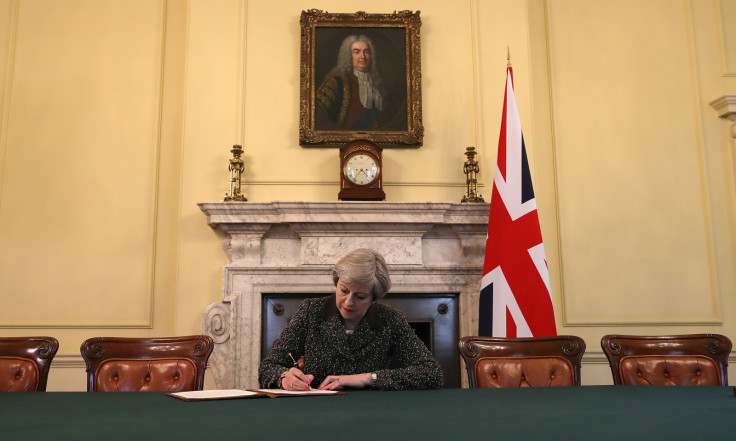 The process starts a two-year clock on negotiations on a deal with the EU.
As exchanges closed on Tuesday (28 March), London traders sat on their hands unsure how the markets will react to Brexit.
IG market analyst Joshua Mahony said: "Tomorrow's Article 50 activation represents a historic day, yet the implications for the markets are less certain. For FTSE bulls, there is a feeling that Brexit worries could cause further sterling devaluation, helping out UK firms in the international marketplace."
In an attempt to manage the political risks, a cross-party group of MPs unveiled a "Brexit Contract" in a bid to hold the UK government to account over the two-year-long negotiating period with the EU.
Labour leader Jeremy Corbyn said his party respected the decision to leave the EU throughout the process and from now would hold the government to account "every step of the way".
He said: "Britain is going to change as a result. The question is how."