Theresa May will unveil 12 negotiating objectives for the UK government at a major speech in central London on Tuesday (17 January), as the prime minister rejects a "half-in, half-out" Brexit.
The Conservative premier will also stress that she wants the EU to succeed after the UK's split from the economic and political bloc, while calling for a "new and equal partnership" with just months to go before Brexit talks begin.
"We will continue to be reliable partners, willing allies and close friends. We want to buy your goods, sell you ours, trade with you as freely as possible, and work with one another to make sure we are all safer, more secure and more prosperous through continued friendship," May will say.
She will add: "We seek a new and equal partnership – between an independent, self-governing, global Britain and our friends and allies in the EU.
"Not partial membership of the European Union, associate membership of the European Union, or anything that leaves us half-in, half-out.
"We do not seek to adopt a model already enjoyed by other countries. We do not seek to hold on to bits of membership as we leave."
May's 12 negotiating priorities will not be released before her speech at the Foreign Office's historic Lancaster House.
However, Number 10 said the objectives will be driven by four key principles: a stronger Britain, a fairer Britain, a truly global Britain, and certainty and clarity.
"And as we negotiate that partnership, we will be driven by some simple principles: we will provide as much certainty and clarity as we can at every stage," she will say.
"And we will take this opportunity to make Britain stronger, to make Britain fairer, and to build a more global Britain, too."
'A vague disaster'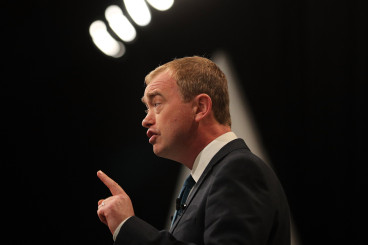 The previewed speech is another indicator that the UK plans to split from the EU's customs union and surrender full access to the bloc's single market.
Such a move would allow Britain to introduce curbs on EU migrants coming to the UK — a major issue during the referendum campaign —and enable the government to broker its own free trade agreements.
Its supporters have described such a relationship with the EU as a "clean Brexit", while opponents of the strategy have branded it a "hard Brexit" and warned of job losses.
"You can call this Brexit clean, red, white and blue, or whatever you want. But this doesn't disguise the fact that it will be a destructive, hard Brexit and the consequences will be felt by millions of people through higher prices, greater instability and rising fuel costs," said Tim Farron, Liberal Democrat leader.
"May can say everyone must come together but when she delivers a message like this no-one will believe her.
"The prime minister is on the cover of this month's Vogue, I assume they are going to change the name to Vague for this edition to match her vision of our future trading relationship with Europe."
May's speech will come just two months before she plans to invoke Article 50, the mechanism to break from Brussels, and trigger talks with the EU before the end of March.
But a ruling from the Supreme Court, which is expected in January, could frustrate the process. The justices may decide that MPs should have a vote on the issue and the court could rule that the devolved assemblies in Wales, Scotland and Northern Ireland should have a say on Article 50.
The later option would likely set the UK government's Brexit timetable back since a snap Stormont election is to be held after pro-EU republican party Sinn Fein refused to nominate a new deputy first minister following Martin McGuinness's resignation.