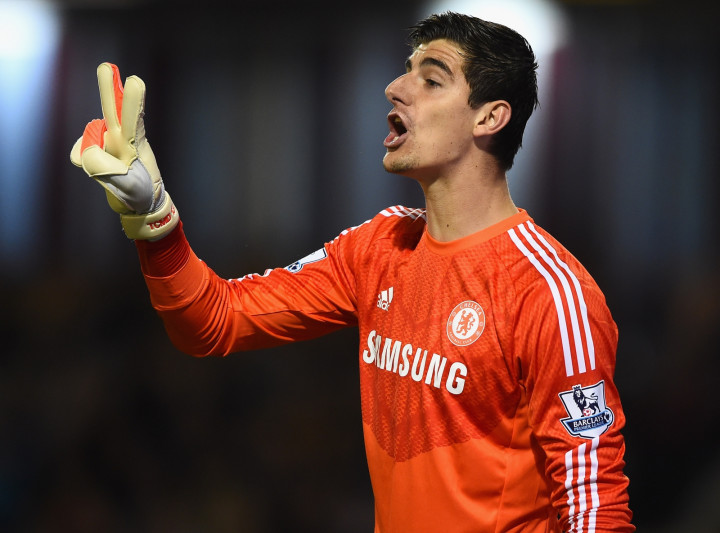 Belgium are set to start Chelsea goalkeeper Thibaut Courtois for their first European Championship qualifier against Andorra despite being in breach of Football Association guidelines regarding head injuries.
The FA's new regulations regarding head injuries says players should not play again for a minimum of six days and with Belgium not governed by these rules coach Marc Wilmots is set to risk Courtois's fitness this coming week.
Courtois was knocked out in a clash with Arsenal's Alexis Sanchez on Sunday but despite being checked by Chelsea's medical officials was not substituted until 13 minutes later when blood began to flow from his ear.

Chelsea later confirmed that Courtois had not suffered concussion and was free to join up with the Belgium national team for the Euro 2016 qualifiers against Andorra and Bosnia and Herzegovina.
However, playing for Belgium on Friday just five days after the incident still breaches FA rules and leaves the Blues sweating over the player's immediate fitness.
Wilmots said on Tuesday: "We must of course wait and see what the doctors say, but I expect him to play. I've already spoken to Thibaut on Sunday. The collaboration with the medical staff of Chelsea is excellent. An hour after the game, I knew the results of the investigations already. I get only positive signals."
Fifa guidelines surrounding head injuries indicate that medical officials should spend three minutes assessing victims and players should be removed from the field of play.
Chelsea have been heavily criticised for enforcing neither of these procedures and then allowing Courtois to continue playing before being later substituted.
But Michel D'Hooghe, head of Fifa's medical committee said at the Leaders Sports Business Summit: "I think sincerely that the [Chelsea] team doctor did the correct examination.
"She [Eva Carneiro] came to the conclusion that he could go on but she kept an eye on him. And from the moment that he didn't feel well, they took again the right decision to take him off.
"That can happen in the case of concussions. In the beginning, people can go on but the symptoms increase after some minutes."

Meanwhile, Chelsea winger Eden Hazard, who scored the first goal against Arsenal in Sunday's 2-0 win, is also expected to play for Belgium in the double-header despite having an injured toe.
Jose Mourinho is already anxious over the fitness of Diego Costa, the Spain striker who has joined up with his national team despite fears over a long-term hamstring problem, which has restricted his appearances this season.