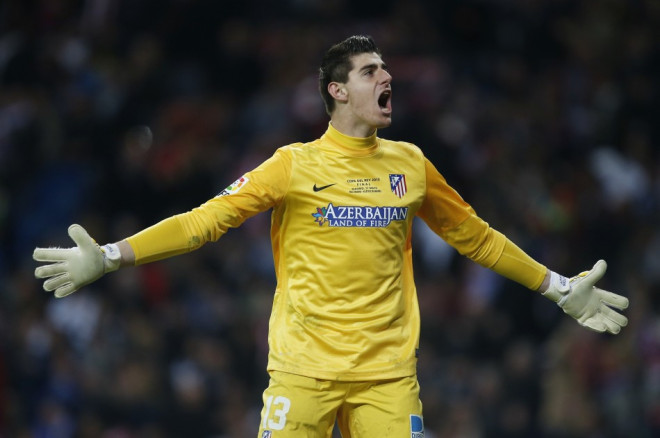 Atletico Madrid's on-loan goalkeeper Thibaut Courtois has denied having any conversation with Chelsea manager Jose Mourinho regarding his future.
The Belgian International, who has spent the last three seasons on loan at with the La Liga outfit, cited Petr Cech's performances as the reason for Chelsea not assuring him first team opportunities.
However, Courtois insists that he is happy to remain at Atletico if he cannot play a starting role at Stamford Bridge.
Earlier this month, Real Madrid were reported to have agreed a deal with the goalkeeper for switching to Santiago Bernabeu once his contract with Chelsea expires in 2016.
However, Courtois played down the rumours stating that he is happy at his current club while stressing that his future lies only with Atletico or Chelsea.
"That's not important now, I want to concentrate on Atleti. I've never spoken with Mourinho. Chelsea can't tell me now if I'll be their keeper, because Cech is playing well, and he's one of the best keepers in the world," Spanish newspaper AS quoted Courtois as saying.
"I love being at Atleti, I want to play and if I can't do that at Chelsea, and can carry on here, I'd be very happy. If rumours aren't true, then they're not true. The only thing I've always said is: that it is Atleti or Chelsea," he added.
Atletico are keen on sorting out Courtois' future hoping to permanently add him to their roster in the summer. President Enrique Cerezo also reiterated the club's interest but hinted that the Belgian international is now ready to displace Cech as Chelsea's first choice keeper.
"Courtois is Chelsea's property and that has been made clear. Initially he was loaned out to us for a year but now we've had him for three seasons," Sky Sports quoted Cerezo as saying.
"Thibaut is very pleased to be at the Vicente Calderon right now although he is prepared to fight for his place with Petr Cech at Stamford Bridge. His future does not depend on us, so we have a big challenge over the summer to strengthen our squad," he added.
Atletico are reportedly considering a bid in signing Liverpool goalkeeper Pepe Reina who is currently with Napoli on a season long loan. The Spaniard's future at Anfield is in serious doubt following last month's comments by the Merseyside club's manager, Brendan Rodgers.