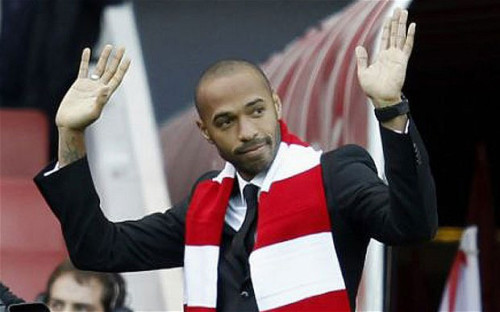 Thierry Henry has said that Arsene Wenger's arrival at Arsenal in 1996 was the turning point at the club, which propelled them to greater things.
The manager has won three Premier League titles with the Gunners and is regarded to as one of the best managers the club has ever had.
Among his greatest achievements, bringing in Thierry Henry from Juventus in 1999 stands out as one which completely changed the whole dynamic in the club. The Frenchman stayed eight years before transferring to Barcelona, where he won the Champions League, but the 36-year-old has fond words to say for the club that transformed him as a player.
Previously deployed as a left-winger, Henry was converted into a striker by Wenger and went on to score 226 goals for the club.
The Gunners have not won anything since his departure, their last trophy being an FA Cup in 2005, but Henry believes that this may be the year when the Gunners finally realise their potential and lift the title. Arsenal are currently top of the table, one point ahead of Manchester City and two ahead of Chelsea.
"He changed the philosophy of the club. He won stuff as soon as he arrived and therefore he earned the trust of the fans and the respect of everyone. I still watch Arsenal a lot. They have had a great start to the season and I hope they can keep it up. I would be really happy if they won the Premier League," Henry said.
His current club, the New York Red Bulls, have been linked with a move for Barcelona midfielder Xavi Hernandez and the striker believes that the Spaniard, given his talent, can play anywhere in the world.
"I haven't spoken to him.But Xavi is such a great player and he can play anywhere. He can play in MLS, in France, in England, anywhere. Xavi plays football the way I believe football should be played, just like [Andres] Iniesta and Cesc [Fabregas]. The way Barcelona play is the way I think the game should be played," he said.