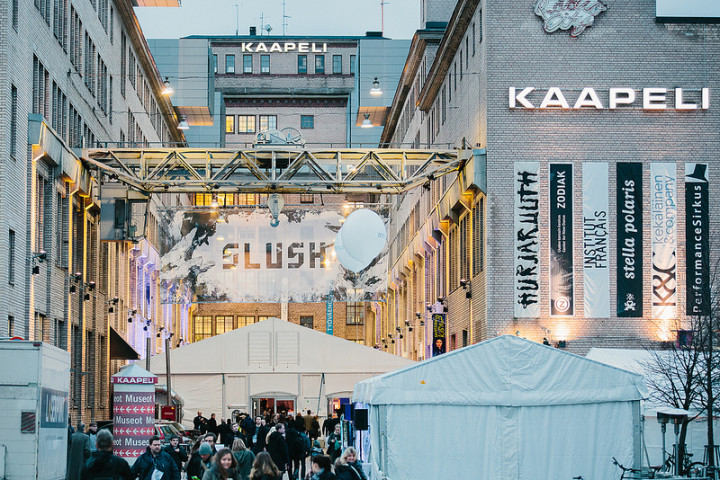 Hundreds of business startups from around the world are descending on Helsinki, Finland, ready for the annual Slush tech conference, which kicks off on Tuesday, 17 November.
Since launching in 2008, Slush has become the biggest startup conference in Northern Europe and Russia, with more than 10,000 attendees from 80 different countries expected at this year's event.
Its fast growth places it among the top tech startup conferences around the world, such as TechCrunch Disrupt and Web Summit.
"It comes from the fact that we want the event to be an experience," said Miki Kuusi, director of Slush. "You can see great speakers and get an experience that's worth coming to."
World's biggest pitching competition prize
Investors representing around $200 million (£127m, €159m) in venture funding are expected to attend the event, hoping to come across the next Rovio or Supercell.
The winner of the Slush 100 competition for early-stage startups will also win a prize of €250,000 (£200,000) - the largest sum ever offered at a pitching competition of this kind.
The prize has been offered by the Finnish Business Angels Network (FiBAN) and the Finnish bank Evli.
"By supporting the Slush 100 competition, Evli Bank wants to increase understanding of the significance and possibilities of entrepreneurship," said Esa Pensala, head of Evli's wealth management services.
"We hope that, with this investment, we can further elevate awareness of the competition and through that improve the possibilities of success of the entrepreneurs taking part in the competition."
Filling Nokia's void
In recent years the decline of Nokia - the mobile phone manufacturer that contributed 25% of Finnish growth for almost a decade until 2007 - has spurred Finland's tech talents to focus their attentions on new innovative enterprises, producing a wealth of successful tech companies.
The growth of Slush is a reflection of Helsinki becoming one of the most interesting startup scenes in all of Europe.
It has been boosted by Tekes, the Finnish government's technology investment arm that provides funding to young companies in order to develop "innovations that create growth". The initiative has helped see a country with just 4% of Europe's population create 26% of Europe's startup exits.
More than 100 companies have benefited from Tekes investment since the downfall of Nokia, with one of the most successful areas being that of mobile gaming.
Some of the most famous smartphone games of the last few years, including Clash of Clans, Hay Day and the Angry Birds series, have come from Finland. Beyond gaming, startups from sectors as varied as health, artificial intelligence, and recycling will be taking part in Slush.
IBTimes UK will be in Helsinki covering Slush 2014 from 18 - 19 November.