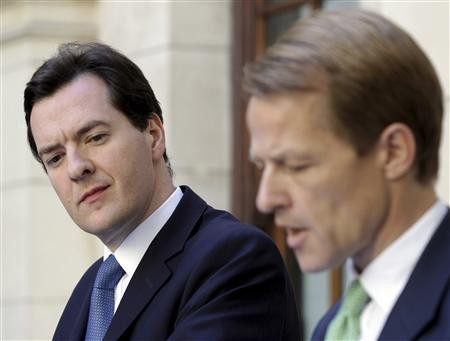 On Monday 24 May, the Chancellor of the Exchequer, George Osborne announced "wasteful spending" cuts of £6.2 billion of which £5.7 billion will go to reducing the UK's current deficit of £156 billion. Around £500 million, apparently a concession to the Lib Dems, is to be reinvested in further education, apprenticeships and social housing.
This cut is in addition to the savings already identified by the previous Labour administration, although Labour did not intend that any savings in this financial year would go to reducing the deficit. Alistair Darling, Labour's Chancellor, had identified £11 billion from a range of departments whose spokespersons only had a vague idea, if any at all, as to how such savings were going to be implemented.
The Foreign and Commonwealth Office, earmarked for savings of £50 million, told Channel 4 News reporter Cathy Newman: "It's a figure we have agreed with Her Majesty's Treasury as part of Building Britain's Future, or whatever the slogan is that's on our press release."
The Department of Health's £4.35 billion planned saving this financial year included £555 million to be saved by "managing down" the staff sickness absence cost, estimated to total £1.7 billion. (November 2009, in a reply given by Ann Keen, then Parliamentary Under Secretary for Health Services). This is a department that has had a consistent sickness absence for over a decade of 4.5 per cent so is George Osborne simply hedging his bets with his extra spending programme cuts?
To cut a total of £17.2 billion (£16.7 billion net) is much more than the "less than one per cent of total government spending" Mr Osborne referred to in his speech - maybe he had forgotten this was additional. We shall have to wait to see what the revised government spending figure is in the Emergency Budget on 22 June, but the £16.7 billion net figure is about 2.4 per cent of the March 2010 Budget spending plan.
Some of the new cuts outlined are as sketchy as those announced by Labour. For example, £1.15 billion in "discretionary areas" like consultancy and travel costs and six hundred million from reducing quango costs.
Other figures are quite straightforward. A hiring freeze across the civil service, which will probably imply that all jobs which entail a government pay slip, national or local, will be under scrutiny, is to save £120 million. Local authorities in England will lose £1.165 billion. Eight hundred and thirty-six million is to be cut from surgeon Vince Cable's Business Innovation and Skills budget. Transport will take a £683 million hit.
There are cuts in nearly every government department although £700 million which will apply to Scotland, Wales and Northern Ireland may well be deferred until next year. This surely is a political decision with the Scottish Parliament and Welsh Assembly dominated by left-wing parties and Stormont - let's not get into Irish politics, life's complicated enough. It can be seen that England, even at this early stage, is shouldering more of the responsibility for deficit reduction than its fair share. When real cuts begin to bite, there could well be a strong backlash in England if this were allowed and be seen to continue.
If the reaction in the City and financial/money markets was favourable, why was the praise less than effusive? Sterling firmed a little and then fell back. The cut represents just two weeks of Government overspend and will make virtually no difference to Britain's economic recovery or reduction in the national debt and is just a start in reducing a deficit worse than that of Greece this fiscal year. All are waiting for the emergency budget on 22 June and the full spending review and budget in the autumn. Agreed, this start was better than nothing at all, but as the Institute for Fiscal Studies pointed out "the cuts represent less than one-tenth of the fiscal tightening we actually need". The real agony is yet to come.
That the extra spending cuts had their critics was only to be expected. Labour has little choice but to continue along their pre-election line that the economy is too fragile to withstand any further trimming of government spending, threatening a double-dip recession leading to (unnecessary) job losses. This is a view shared by trade union leaders, especially the leaders of the public sector unions.
These critics may well be right. Even Labour's plans were estimated to cost the jobs of 100,000 workers and possibly edge Britain back into recession. The problem of the deficit however, would not change in any respect but for the worse. Phrases like "the recovery is too fragile", "a threat of double-dip recession" and "when the time is right/appropriate" would hardly have sustained the UK's AAA rating and consequent bond interest rates, not to mention Sterling's already 25 per cent devalued rate into 2011-2012. When is the time in such circumstances ever right?
One prominent economist of the Left, David Blanchflower, Professor of Economics at Dartmouth College, New Hampshire, said that job losses in the public sector could (now) reach 240,000 -300,000 and with knock-on effects bring the UK unemployed total to over three million. Last year, Mr Blanchflower advocated a £90 billion stimulus package which was obviously far too big a step for the then Chancellor, Alistair Darling. He told Bloomberg in a TV interview earlier this year that the loss of Britain's AAA rating would not be a disaster if the Government was using a fiscal stimulus to boost the economy which had unnerved the markets. The extra cost of interest charges on UK bonds would be easily offset by the increase in output the stimulus would create and the lesser welfare charges incurred. Once the economy recovered, the UK would again have a triple A rating.
My main problem with this (I have others) is the UK's tremendous appetite to consume, especially imports, and past stimuli have achieved little to boost production in export goods and services, a task not made easier by hard times in the EU which accounts for over 50 per cent of our exports. Indeed, the Government can take cheer from the fact that the French appear to want their government to follow Britain's lead to reduce their deficit. Keynes is not, at this moment in time, flavour of the month.
On Wednesday 26 May in the House of Commons, a valid criticism of the cuts was made by the Shadow Chancellor, Alistair Darling when he asked (now former) Chief Secretary to the Treasury, David Laws (LD): "Can you tell the House how cutting 10,000 university places can possibly amount to the elimination of waste? That's not being wasteful or inefficient. That's cutting the investment we will need in the future to ensure skills."
Mr Darling could have added the abolition of the Child Trust Fund or the abolition of the future jobs fund. This revealed the Achilles heel of the Government's reductions, that "efficiencies" alone just scratch the surface of the problem and the savagery and scale of the reductions ahead.