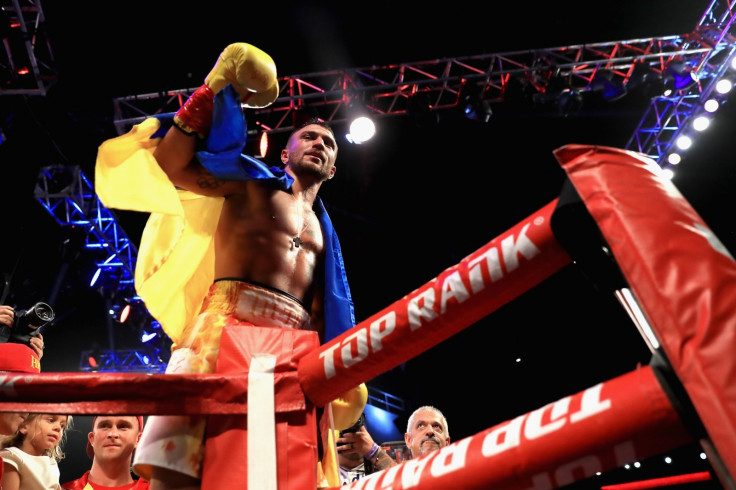 Top Rank Promotions CEO Bob Arum has heaped praise on Vasyl Lomachenko, even going to the extent of comparing him to boxing legend Muhammad Ali.
Lomachenko (9-1 professional record) successfully defended his WBO junior lightweight title on Saturday (5 August) against Miguel Marriaga after the Colombian's corner stopped the fight following the end of the seventh round.
The Ukrainian simply dominated Marriaga (25-3 record) in every round, constantly pressuring him, displaying his technical superiority as well as knocking him down twice.
The victory means Lomachenko, arguably the greatest amateur boxer of all time (396-1 record) and regarded by many as the pound-for-pound best boxer in the world, has now made his last three opponents quit without finishing the fight.
And Arum, who has staged title fights for more than 50 years, claims the 29-year-old is the greatest fighter he has ever witnessed since the days of Ali.
"This kid, Vasyl Lomachenko, is the greatest fighter that I've seen since Muhammad Ali," Arum said, as posted by @MikeandMike. "This kid has everything."
"He's the most unique guy around, and I said it before, but he's a throwback to Ali," he added, as quoted on Fox Sports. "Not only does he have the knowledge, but he has the skillset that I have never seen before. He's got the fast reflexes, the defence, everything."
It's not the first time that Arum has praised "Hi-Tech" either.
In the build-up to the Marriaga fight, the 85-year-old compared Lomachenko to another boxing great in Floyd Mayweather, citing their defensive abilities but praising the two-time Olympic gold medalist for his more offensive style.
"Now Floyd Mayweather's a great, great defensive fighter – there's no doubt about it," Arum explained, as quoted on BoxingScene. "But Floyd is content to win fights by out-scoring an opponent, scoring more punches than the opponent hits him with and wins on points."
"Now Lomachenko closes the show. You can't hit him because his distance is so good, his footwork is so good. But he's always looking for ways to destroy the opponent and he always does. He goes both ways in the sense that he's a great defensive fighter, probably one of the best that I've ever seen.
"But he combines it with a great offensive style. In other words, you can't hit him because his footwork is so good, his judgment of distance is so good. But while he's avoiding punches, he's always looking for weaknesses in the opponent and he looks to take the opponent out, or to make the opponent quit."
As for who Lomachenko wants to face next, it does not matter to him: "That is always the question I hear. For me it doesn't matter. I want to win titles."