In a speech at the Conservative Political Action Conference (CPAC) on Thursday (24 February), US Vice President Mike Pence spoke glowingly to the American conservative movement, vowing to uphold their values. "This is our time," he told the cheering crowd who had gathered at Maryland hotel, just south of Washington, DC.
Pence, who has attended CPAC nine times previously, opened by admitting "this is the first time as Vice President of the United States."
The vice president was introduced by Chris Cox of the National Rifle Association (NRA), and spoke after being awarded CPAC's Charlton Heston Courage Under Fire Award — an award that includes a gun.
"Our fight didn't end on November 8th," Pence said, calling on conservative activists to attend the town hall meetings which activists have recently been taking to, to protest Trump administration policies.
Pence said that the "nightmare" of the Affordable Care Act was "about to end", and, although he was limited on the details of a replacement — suggested that people would be able to buy insurance across state lines and there would be policies for those with pre-existing conditions.
The vice president also continued the CPAC theme by members of the Trump administration of attacking the media
Addressing foreign policy, amid the possibility that the US will move the American embassy from Tel Aviv to Jerusalem and the potential conflicts that could arise for such a move, Pence told the conservative audience: "Israel's fight is our fight ... under President Trump, America will stand with Israel."
The biggest cheers came when Pence named the cabinet members, proclaiming it the "strongest conservative cabinet in my lifetime" and when he said the administration would "hunt down and destroy Isis".
The vice president also flashed his evangelical credentials, telling the audience: "we need one more thing, we need your prayers" before quoting a bible verse.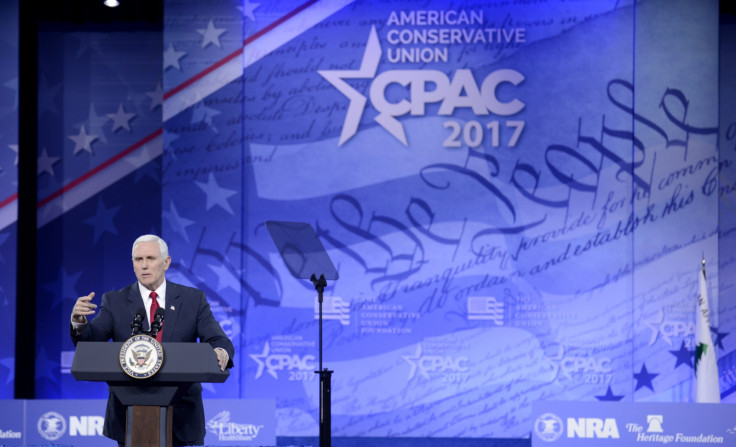 On Friday morning (24 February), President Trump is to make his own conference appearance, as the top-billing following a number of keynote speeches from senior government figures at the event.
Education Secretary Betsy DeVos defended the administration's decision to rescind Obama-era protections for transgender students, while Steve Bannon continually called the media "the opposition party" in a conversation with Chief of Staff, Reince Priebus.
The conference had been marred with scandal before it began, after controversial former-Breitbart editor, Milo Yiannopoulos found his invitation revoked over the fallout from his child abuse remarks.
Alt-right figurehead, Richard Spencer, also made an appearance but was quickly removed by organisers.