Thousands attend Mexican teen's birthday party after her dad's video invite goes viral
Her father's video invite sparked countless memes, parodies and company sponsorship offers.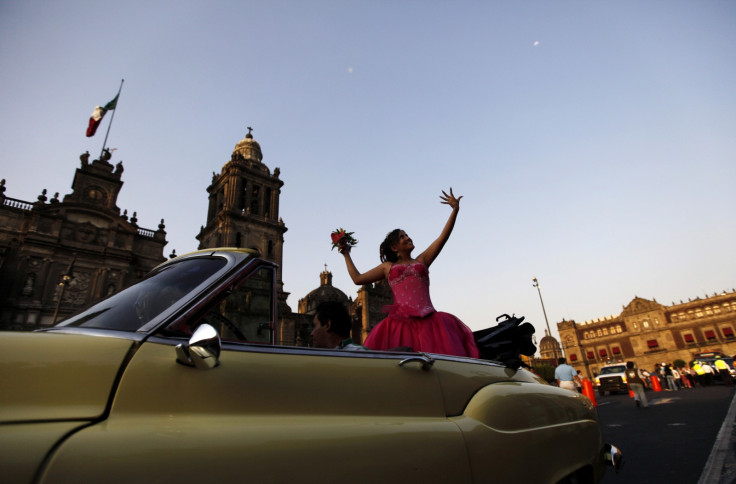 Thousands of people attended a girl's 15th birthday party in rural Northern Mexico after her father's video invitation asking "everyone" to attend accidentally went viral. Earlier this month, a local event photographer posted the video invitation on his Facebook page a video of the girl's father, Crescencio Ibarra, describing his daughter Rubi's upcoming quinceanera celebration - a traditional coming-of-age ceremony similar to an American "sweet sixteen" party.
"There will be a chiva (race) with 10,000 pesos, as for second and third places, we'll work that out," Ibarra said in Spanish, standing beside Rubi and his wife Anaelda Garcia . "Everyone is cordially invited." He goes on to describe the birthday party that would feature food, three local bands and horse races.
The video soon went viral after it was picked up multiple times on YouTube, garnered million of views and prompted countless memes, jokes, parodies from Mexican celebrities, musical tributes and even sponsorship offers and discounts from companies.
"My husband made the invitation, but to people who live in neighbouring regions," Anaelda told a local television station, the Associated Press reported earlier. "I don't know who copied it, but they posted it and it blew up as if it were an invitation to the entire world."
While around 1.2 million people from around the world responded to the invitation, thousands actually made it to the event on Monday (26 December) at a ranch in the small village of La Joya in the state of San Luis Potosi. At the event, family members had to make a path for the teen to cross through a barrage of photographers and reporters and reach the Mass.
Wearing a bright jewel encrusted fuschia dress and a tiara at the event, Rubi took to Facebook on her birthday writing in Spanish: "To all those who have already arrived, I ask you to please do not despair because in truth we are many people and we are just seeing how to speed things up. I just ask for your patience so that we can all enjoy this party."
The AP reported that Rubi's birthday party soon resembled more of a rock concert with cars blocking access to the local communities while state police and Red Cross workers monitored the situation.
Sergio Octavio Contreras, a communications professor at La Salle Bajio University in Mexico, told AP: "What happened with Rubi is an interesting example of how the internet amplifies and makes hyper-transparent people's personal lives and how traditional media look for stories on social networks to bring in new audiences."
© Copyright IBTimes 2023. All rights reserved.