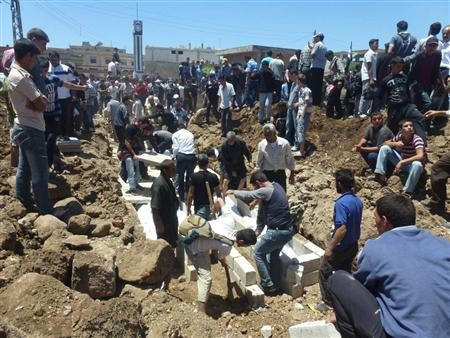 The International Committee of the Red Cross said that thousands of people who fled the Houla massacre are now in urgent need of help.
The International Committee of the Red Cross and the Syrian Arab Red Crescent undertook a fact-finding mission to Houla, a cluster of villages near Homs after 108 people were killed last week.
The ICRC said thousands of people have fled the violence and sought refuge in nearby villages.
"People left everything behind as they ran for their lives," said Marianne Gasser, the head of the ICRC delegation in Syria. "Most of the displaced are women and children."
One of the villages is Burj al-Qa'i located in Houla, where 5,000 people who had fled the village of Taldaw headed in search of safety, ICRC said. Talda usually has 1,000 residents.
"Many of those who took refuge in Burj al-Qa'i ended up in schools and other public buildings, others with host families," said Gasser. "There was not enough food, water and medicine for everyone, which put a great deal of pressure on the small village."
The organisation said some of the wounded were left behind as they were not able to leave their villages, being too weak or unable to move.
"What happened in Houla is tragic. The ICRC is shocked by the high number of casualties," said Gasser.
"When fighting erupts, parties must distinguish at all times between civilians and those directly participating in the hostilities. Civilians must be spared as far as possible the effects of the fighting."
Although the ICRC and the Arab Red Crescent have provided some of the residents with medical assistance, water and food thousands of residents are still in need of help.
Instability and security are however hindering humanitarian work.
"The ICRC is calling upon the parties to ensure that civilians are allowed to move to safer areas should they fear for their safety, and that the injured have access to any medical care they may need without delay. It is also calling on all parties involved in the violence to continue to facilitate its safe and unimpeded access to affected areas."
The organisation also said it remains extremely concerned about the humanitarian situation across the country.