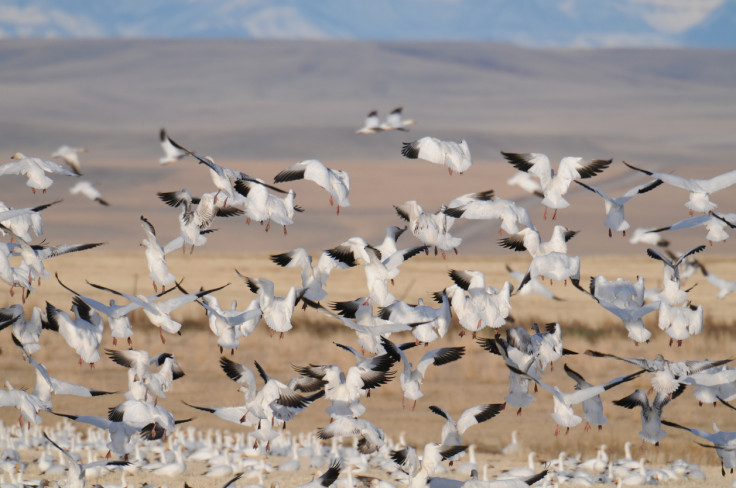 Thousands of snow geese have died due to exposure to the toxic waste waters of the Berkeley Pit in Montana. Although the exact number of the dead birds is yet to estimated, witnesses in Montana described the pit as "700-acre of white birds".
Preliminary data obtained through drone and aircraft surveillance suggests that a minimum of 10,000 birds could have died in the old open mine pit. Officials from the Environmental Protection Agency are investigating whether the birds died due to negligence. The migratory birds had started landing near the pit waters since 28 November.
Atlantic Richfield and Montana Resources are responsible for the Berkeley Pit in Butte as they have been tasked with a project of scaring the migratory birds off since 1995. Under the programme, both companies use loud noises and other techniques – jointly designed by state and federal authorities – to ward off the birds. The project was implemented after hundreds of birds died in the pit that contains around 175 billion litres of hazardous water.
The pit has limited access as officials cannot ride boats on the lake, as it contains high amounts of sulfuric acid. The birds' usual landing spots – Freezeout Lake west of Great Falls and Warm Springs Ponds – in the region were mostly found to be frozen when the flock flew over it leaving them with no choice, but to take refuge at the Berkeley Pit.
"The feeling of helplessness, we couldn't help every single bird. They [the crews] worked very, very hard to save has many birds as possible, they really put their hearts and soul into that effort and if it wasn't for their diligence and dedication this situation would be even worse," said Mark Thompson of the Montana Resources. Officials are also watching out for additional flocks headed towards Butte while Montana Resources estimates that nearly 90% of the birds have been chased off.
"I can't underscore enough how many birds were in the Butte area that night. Numbers beyond anything we've ever experienced in our 21 years of monitoring by several orders of magnitude," Thompson was quoted as saying by the Associated Press.