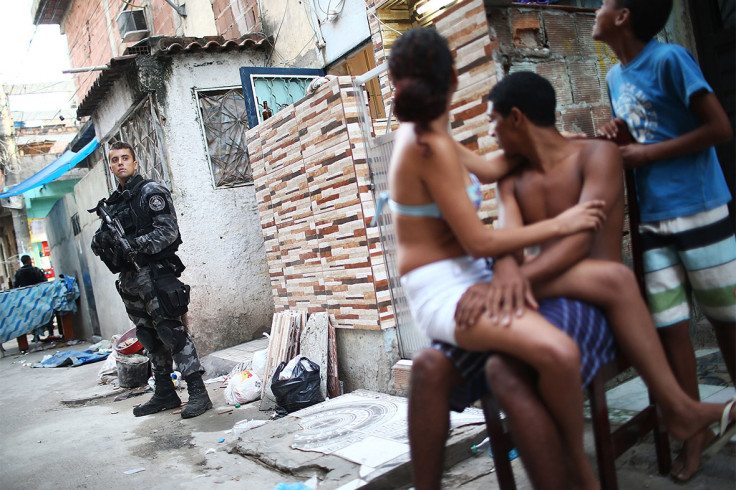 The Brazilian state of Rio de Janeiro may have promised improvements in public security in preparation for next month's Olympic Games, but it has not done enough to address extrajudicial executions by police, who killed 645 people in Rio in 2015.
According to a report published today (7 July) by Human Rights Watch (HRW), more than 8,000 people were killed by police in the last decade, in a shocking disregard for international standards and Brazilian law.
"This is a chronic problem in Rio and the numbers are shocking. The fact that they have killed 8,000 people in a decade – it's just hard to find another example anywhere else," César Muñoz, author of the report and Brazil senior researcher with the Americas division at HRW, told IBTimes UK from Rio.
Police in Rio face a serious threat of violence from heavily armed gangs, and nearly all killings are reported as legitimate acts of self-defence. But the report alleges that many others are actually extrajudicial killings which officers routinely try to cover up.
One-fifth of all homicides in the city of Rio last year were police killings. According to Rio state Attorney General Marfan Martins Vieira, a large number of the "shootouts" reported by police were in fact "simulated" by officers to cover up extrajudicial killings.
"Police shoot at unarmed people. They shoot people in the back as they are fleeing. They execute people who have been detained with a bullet to the head," Muñoz said in his report.
To put these numbers in perspective, for each officer that died on duty in Rio in 2015, police killed 24 people – double the rate of South Africa, and triple that of the United States.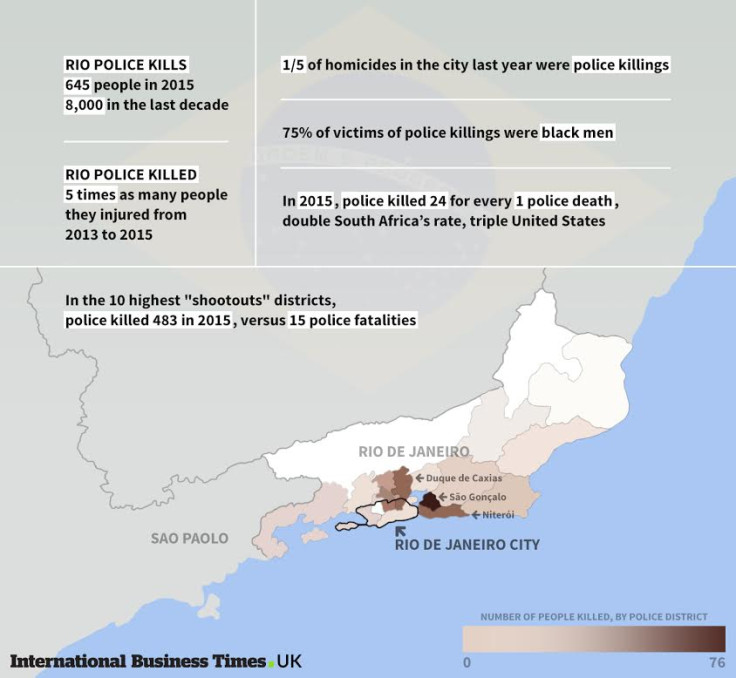 HRW: almost 75% of all victims were black men
HRW found that 75% of all those killed by police were black and 98% were men.
While the victims were believed to be from poor backgrounds, Muñoz said it is difficult to confirm how many people are actually killed in the favelas because "records that the civil police keep on the killings are very sloppy".
The favelas – low-income neighbourhoods – are home to almost 1.5 million people or around 23-24% of the population of Rio city. Officers interviewed attributed the excessive use of lethal force to a pervasive "culture of combat" and corruption within the military police ranks.
A military police officer recounted an incident in which he and other officers set an ambush for suspected gang members, gunned them down when they fled from other officers, before planting guns on the victims as they lay dead and dying in the street.
In 2009, HRW first exposed 35 cases in which there was credible evidence that officers sought to cover up unlawful killings. However, the organisation now says it has evidence of at least 64 of these cases – in which a total of 116 people died including at least 24 children.
Only eight of these cases went to trial – four of which ended with convictions of police officers involved.