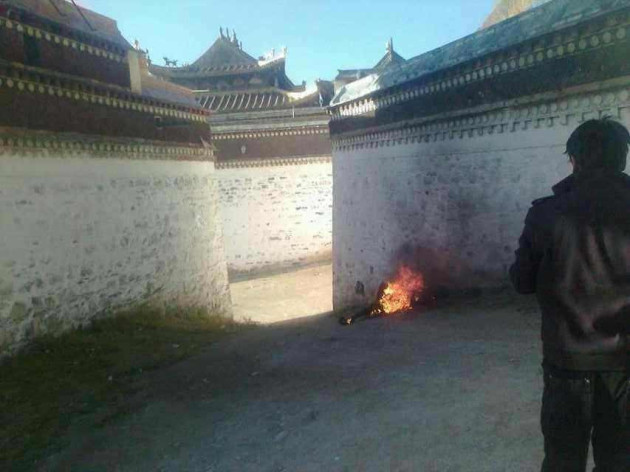 A Tibetan man burnt himself to death near the China's People's Liberation Army (PLA) headquarter in Labrang, in Tibet's northwestern Gansu province, following the self-immolation of a Tibetan compatriot at the local monastery.
The International Tibet Network told IBTimes UK that 57-year-old Dorjee Rinchen, a farmer from the village of Sayie just outside Labrang, set himself ablaze and died. Rinchen was "an appointed village leader, well-respected by local Tibetans, who spoke both Tibetan and Chinese".
He had a wife, Tabho, a son and a daughter. He used to sell bread at the monastery. Sources say that locals did not allow his body to be taken away by troops. Instead his body "was taken home to his village".
His self-immolation was the second in Labrang in two days.
On Monday, Dhondup, in his late 60s, set himself on fire near the prayer hall at the Labrang monastery, which is one of the most important outside of Tibet and the site of numerous protests by monks.
Free Tibet said the self-immolation was the first to take place there, and that the monastery man, a manager and other monks prevented police from taking Dhondup's body. Tibetans traditionally keep corpses at home for some days to carry out prayers for their passing and for an auspicious rebirth.
Dhondup had often talked to young people, according to sources cited by the International Campaign for Tibet, telling them that the older generation, not the young, should immolate themselves.
"He used to say that we had a very difficult life under the Chinese authorities, saying that the Chinese torture us and look down on us," an unnamed source said. "He said to young people that their lives were really important to Tibet's future."