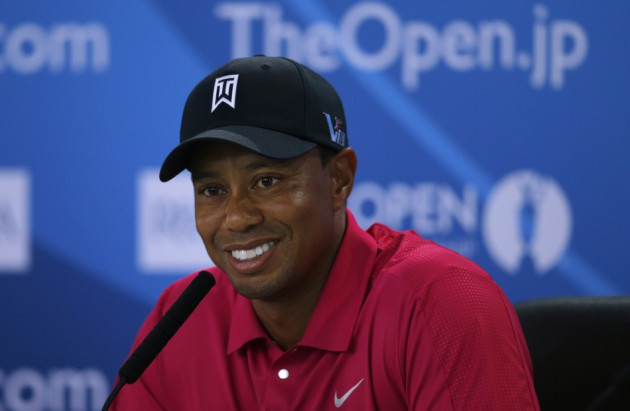 Tiger Woods has declared himself fit and ready to get going ahead of the opening round of the 142nd Open at Muirfield this week.
The world number one aggravated an elbow injury that has seen him unable to compete since the US Open at Merion last month, but Woods is confident he is entering Thursday's opening round with no injury concerns, and is relishing the prospect of testing himself on the Edinburgh course.
"It's playing really fast out there, it has that bit of speed to it," Woods said of Muirfield, speaking to a press conference on Tuesday afternoon. "It's playing a little bit slower, I think they may have put a bit of water on it last night, but it's certainly pretty quick.
"The golf course is set up perfectly and I feel very good about my game going into these championships. I have had a pretty good year, I have won four times, but I haven't won a major championship in five years.
"The elbow feels good. The main reason for taking that time off was that here the ground is going to be hard and I need the elbow to be good."
Woods is in pursuit of his 15th major, but his last success dates back to 2008 when he claimed the US Open title, while his last major success on these shores was his Open victory at Royal Hoylake in 2006 - his third British triumph.
Woods was also quizzed on former world number one Rory McIlroy, who has come under criticism in recent months with Sir Nick Faldo insisting that the northern Irishman has lost focus in the build-up to the 2013 Open.
After winning the US PGA Championship last year, McIlroy has failed to register a single win this season. Faldo, out of semi-retirement to play this year's Open, has been a critic of the northern Irishman's decision to switch clubs at the start of the campaign.
But Woods has given the man who he took the world number one spot off his backing, confident that the 24-year-old is capable of rectifying his questionable form, drawing on his own experiences in insisting McIlroy "knows what he's doing."
"I won a major championship, my first one out as a professional, and then I proceeded to alter my swing a bit with Butch Harmon," Woods said. "And it took me the better part of a year and a half, maybe two years, before it really clicked in.
"I was getting questioned quite a bit through that era, that stage of my career, 'why would you do something of that nature?'
"There was an lot of questions of, why would you change something? And do this, do that, how could you change something that won the Masters by 12? I've gone through that process.
"I think that for him (McIlroy), he's going through that right now and he's making some alterations. Only he knows it is for the betterment of the game. People obviously speculate and analyse and hypothesise about what he should or shouldn't do, but deep down he knows what he's doing."