Following a heroic performance for the USA in the World Cup against Belgium, goalkeeper Tim Howard was briefly elevated to US Secretary of Defence on Wikipedia.
The online encyclopaedia entry for the US Secretary of State was changed at 10.30pm on Tuesday to state that Howard currently held the position - a position which is actually held by Chuck Hagel.
The changes occurred during the USA's last 16 game against Belgium in the 2014 World Cup which saw the European side dominate the game and hit 38 shots on goal, 27 of which were on target.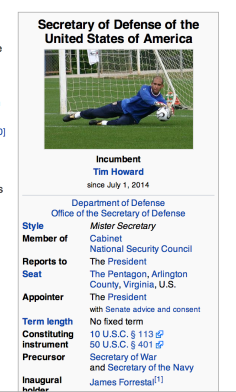 Howard kept his team in the game by making a string of important saves and by the end of the match had pulled off 15 saves which is a record for a goalkeeper in any World Cup since 1966 when records began.
Despite Howard's heroics, Belgium finally broke the deadlock in the first half of extra time when Kevin de Bruyne scored with a low shot past Howard, and Romelu Lukaku scored what turned out to be the winning goal 10 minutes later.
As well as briefly becoming the US Secretary of Defence and making a record number of saves, Howard was the player tweeted about most during the game.
Timberlake, Rihanna, Obama
There were 1.8 million tweets about the Everton stopper during the game, 20% of the 9.1 million total tweets about the game - a stat which made it the fourth most talked-about game of the World Cup so far.
Along with messages of support from celebrities, sports stars and politicians like Justin Timberlake, Katy Perry, Barack Obama, Rihanna, Aaron Paul and Kobe Bryant, the US goalkeeper was also praised by Vincent Kompany, the captain of Belgium:
Good Morning America went one step further by proposing that Howard should be in the running for Barack Obama's job come 2016:
While Nick Pants believes that Howard's face should replace that of George Washington on US currency:
Finally, ESPN believes Howard's heroics are sufficient to see his image carved onto Mount Rushmore - all of Mount Rushmore - and rename it Mt. Howard: