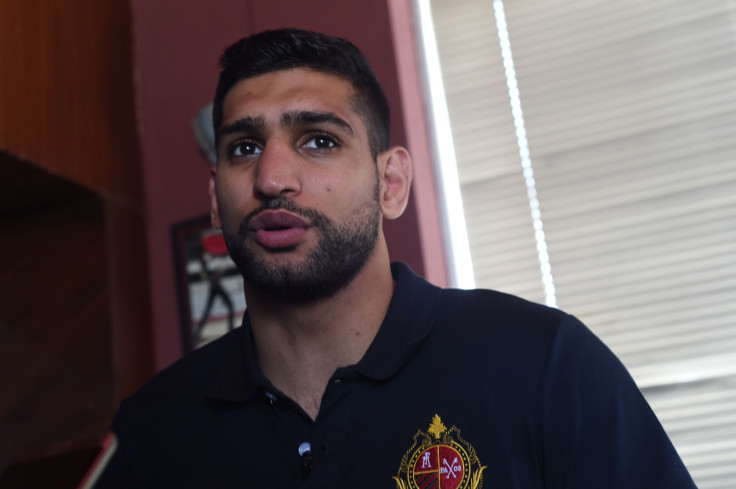 Amir Khan continues to come under fire from Kell Brook's camp over the decision to snub a potential all-British world title fight this year. The Bolton boxer wanted a 70-30 split of the purse in his favour but saw those demands rejected by Brook's negotiating team led by Eddie Hearn.
The Matchroom promoter was pushing for a 50-50 share, with Brook putting his IBF welterweight title on the line, but Khan refused to agree to those terms as negotiations were terminated over a potential clash. Brook will now face mandatory challenger Errol Spence later this year, leaving Khan scrambling around for an opponent.
Spence is unbeaten in 21 professional fights, with 18 knock-outs, a record which has seen him beat Leonard Bundu and Chris Algieri in his last two bouts. And with the chances of facing Khan extinguished, Hearn insists Spence is a far more dangerous opponent for Brook than his fellow countryman.
"The Amir Khan fight was there on a plate," Hearn told Sky Sports. "Let me tell you, this fight is five times tougher than Amir Khan, and this isn't really about the money for Kell Brook. He has been called out that he would duck this fight against Errol Spence, particularly by Amir Khan, and he says no, that's not my style, I'm fighting Errol Spence in front of my people. I'm going to defend my belt with pride and honour."
Khan has not fought since being knocked out by Canelo Alvarez last May, while Brook has been side-lined with a broken eye socket suffered during his spirited loss to Gennady Golovkin in September. Hearn believes that if Brook can return to winning ways against Spence – the fourth challenger for his IBF crown – then he will send another message to "time waster" Khan.
"I think at Kell's age in his career, he's really in his prime now, we cannot wait around for time wasters," said Hearn. "Amir Khan has talked and talked and talked. He's tried to make a deal and priced himself out of the fight, because he doesn't want to lose to Kell Brook.
"Khan is a very good fighter, but he knows he will get beaten by Brook and when he gets knocked out by Brook that's the end of it. We have been waiting a long time for this fight and we can't base our career around him.
"I believe and Kell believes that beating Spence will make him stand out as the number one fighter in the division, and then I still don't think Amir Khan will want it, because something in his head does not want to enter the ring with Kell Brook.
"We have to move on and we must not deal with time wasters."