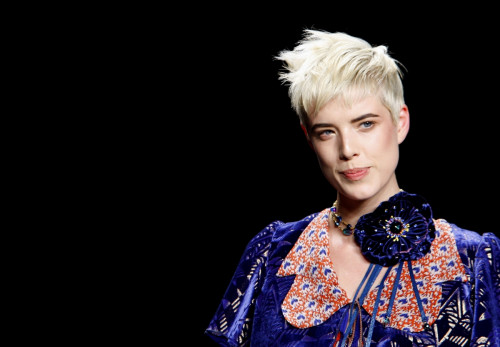 British supermodel Agyness Deyn is preparing to launch her own fashion line.
The 30-year-old beauty, who has appeared in campaigns for brands including Burberry, Vivienne Westwood and Giorgio Armani, is turning her hand to clothes design with the range which will specialise in formalwear and clean-cut basics.
Dubbed Title A, the brand takes inspiration from contemporary tailoring and prices range from $100 for a cropped top to $625 for a wool topcoat.
The collection is not the Deyn's first foray into the design arena. She has collaborated on pieces with footwear giant Dr. Martens over the past four seasons.
Deyn, who is known for her signature androgynous aesthetic, took the fashion world by storm in the early noughties after she was discovered while out in north London with her fashion designer friend Henry Holland.
She has also dabbled in acting with small roles in Clash of the Titans and Pusher.
The 5ft 8ins beauty previously recalled the moment she realised she had grown tired of modelling.
"I had been modelling for 12 years, and that's a good chunk of time, and I just got to a point... I think it was the stage where I shaved my hair off. I used to shave my hair off when I was younger - I used to do it a lot, just for a change, different colours, mad, really bad haircuts," she said.
"So I needed a change. I guess I could have been like, 'It's just a job,' and gone to work - but I can't do that I don't think. The thought of doing it and thinking, 'Only half an hour left.'"
Title A, which will produce four collections a year, will be available to buy at titlea.com from March.