Team GB pair Tom Daley and Pete Waterfield were left to reflect on a missed opportunity after spurning a third round lead to finish empty handed after the men's synchronised 10m platform final.
Daley, a synchro Commonwealth Champion, and Waterfield, a silver medallist from Athens, led their Chinese counterparts Yuan Cao and Yanquan Zhang after round three, scoring 91.08 with their third dive to send the Aqautics Centre into rapturous applause.
However the pair's fourth dive, a reverse three half somersault, saw them slip down the standings, eventually finishing fourth behind China, who defended their Olympic title from Beijing, the high risk Mexican pair Ivan Garcia Navarro and German Sanchez Sanchez and American duo David Boudia and Nicholas McCrory.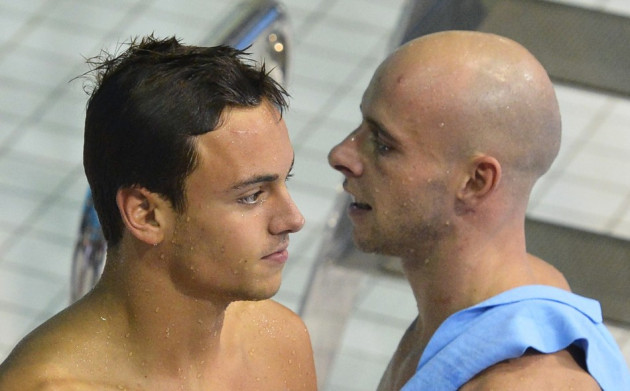 Daley said: "The crowd have been absolutely amazing.
"It's all of what we have dreamed of and to come fourth is so agonising after all the hard work and all the training.
"We have got our individual event coming up a week on Friday so hopefully we'll be able to get back on our game for that.
"It started off really well," the 18 year old added.
"We got a personal best on our first two requires dives, our third dive was good, it was just our fourth dive, our reverse three and half.
"We did really well to stay with them after coming in fourth place and missing a dive that badly because 71 points in a competition like this is unheard of to come in the top four.
"We only needed another nine points on that which normally we would have been able to do but that's the way sport goes sometimes it goes for you, sometimes you go against you what can you do.
Waterfield, who will join Daley in the men's individual 10m platform on 10 August, said: "The fourth dive I don't know I just kicked a bit high and then couldn't stop it and in this competition you can't afford to make mistakes and unfortunately we left ourselves with a lot to do.
"Our last two dives were brilliant but just not enough. The other guys had higher tariffs and high personal bests but unfortunately it wasn't our day and it wasn't mean to be but the crowd were amazing and it would have been amazing to have stood on the rostrum in front of them."