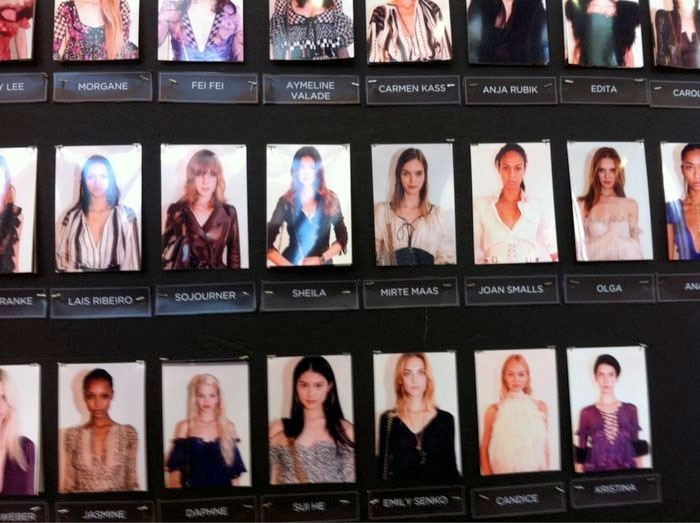 A leaked picture of what appears to be Tom Ford's secret Spring/Summer 2012 collection has appeared online, specifically on CatWalk Queen.
The leaked picture supposedly shows Ford's first ever collection at London Fashion Week, which was exhibited to an intimate group of the fashion elite.
If true, Ford's plan to unveil his much anticipated collection in due time will be foiled and he will join all the other designers who naturally release images of the collection simultaneous to their shows, or immediately after.
The image shows over a dozen models posing in single polaroid style shots, sporting an array of various garments such as animal prints and crisps white blouses.
It has not yet been confirmed whether or not the photo is genuine although CatWalk Queen reports that the folks over at The Fashion Spot claim it came frommodel Candice Swanepoel's Twitter account.
Although the fashion image has now circulated the Internet, Ford or his representatives are yet to come forward to discuss the pictures or deny that it's really his collection.
Never before has a designer acted in such dramatic fashion as Tom Ford who banned any photography or social activity when he presented his Spring/Summer 2012 collection.
Instead Ford chose to present his collection to a small group consisting of a three-row show of the most fashion elite including Anna Wintour, Anna Dello Russo, Carine Roitfeld, Glenda Bailey and Harrods, Tom Ford presented his Spring/Summer 2012 collection.
Although we have to wait until some official photos surface, the reviews suggest a mixed response.
Cathy Horyn of the NY Times, said the show was "thoroughly Tom Ford in its sex appeal and silhouette - tigress hair, smoky eyes, glossy lips, taut skirts and strappy high heels" quoted Catwalk Queen.
However The Guardian's Jess Cartner-Morley was less impressed commenting:
"I'm going to come straight out with it. Deep breath: I didn't think Tom Ford's show was all that. Not that it was awful, by any means, but despite the beautiful tailoring and the immaculate execution it fell a little flat. It felt too self-referential. Too many frills and too few new ideas. There were gorgeous, curvy, super vamp dresses that I loved, but the flouncy peasant blouses and corset belts seemed like a Guilty Pleasures version of Tom Ford" listed Catwalk Queen.