Football pundit Tony Cascarino believes Chelsea's senior players hold the key to beating Barcelona in the Champions League semi-final, but cautioned they will have to be bold if they are to overcome the defending champions.
The Blues battled past 10-man Benfica on Wednesday night to reach their sixth Champions League semi-final in nine years, but they face the formidable obstacle Pep Guardiola's side for a place in the final.
Chelsea had to survive a nervy last five minutes when Javi Garcia exploited a lax defence to reduce Benfica's aggregate deficit to 2-1, after Frank Lampard's first-half penalty at given the hosts a valuable lead.
Roberto Di Matteo's side had been in control for much of the tie after Benfica's Maxi Pereira was sent off in the first half, but the final result looked in doubt until Raul Meireles sealed their progress with a spectacular injury-time strike.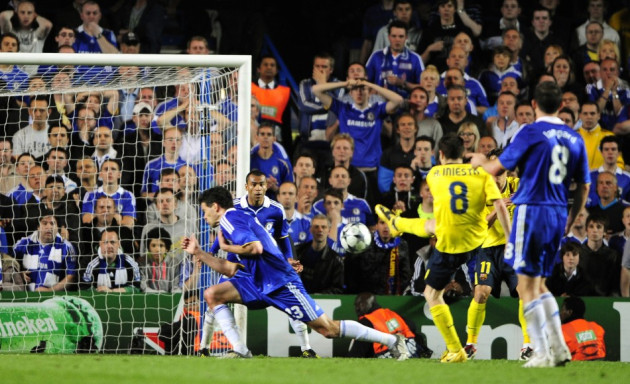 But Cascarino has suggested Chelsea's current system "won't stand a chance" over two legs against Barcelona. He remains adamant Roberto Di Matteo's negative set up and tendency to protect their back four, with the midfield defending deep, will be easily undone by Barcelona.
"[Against Benfica] all I could pick out were problems. You can understand it, to a certain degree," Cascarino told The Times. "After what they did against Napoli and then against Benfica, they will almost certainly try to play the same way - protecting their back four - but I'm not convinced that Barcelona will find anything difficult to combat.
"Those results may fool Di Matteo and his players into believing that they can continue to play the same way. They have fallen on to a system that makes them look solid and they won't want to walk away from it.
"While Chelsea began with some nerves, they could almost let Benfica run around, but if you do the same against a Messi or an Iniesta then you are asking for trouble. Huge trouble."
Di Matteo insists his Chelsea side will not be overawed by the prospect of facing Barcelona in a repeat of the controversial 2009 semi-final, when Andres Iniesta's stoppage-time goal put the La Liga side through after a fiery encounter at Stamford Bridge.
"It will be exciting to play two games against one of the best teams in the world," Di Matteo told BBC Sport. "We will find a strategy that will suit our players and our team to face Barcelona."
Di Matteo has lost just once since being installed as interim manager in the wake of Andre Villas-Boas' dismissal but Cascarino has implored the Italian to be bold against Barcelona or risk being taken apart by Barcelona's much-vaunted attack.
"A lot has been made of the age of Chelsea's senior players, but they are hardly pensioners and Cole, John Terry and Lampard have still got something to offer," the former Chelsea striker said. "But there is also a bigger picture and therein lies the danger; play this way against Messi and Co and Chelsea's presence in the semi-finals could be excruciating.
"It would be fair enough at the Nou Camp, where there is an onus on the home side and you can suffocate them, but Chelsea should be really bold in London, play high up and in their faces, like Inter Milan did in 2012. Loyalty to systems can get you only so far."