Too many Bangladeshis are left with no choice but to drink poisonous water and work in danger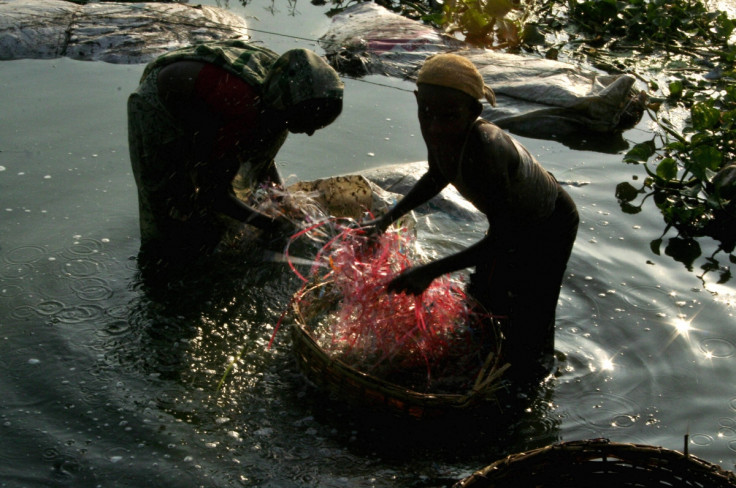 It has only been a few months since Sheikh Hasina, the Prime Minister of Bangladesh, received the UN's highest environmental award – "Earth Champion" – for her leadership on climate change and the environment. The Bangladesh government does deserve credit for its actions, including setting aside $300m (£209m, €266m) for a climate change trust fund and for its National Action Plan on the issue. But during a visit to Bangladesh this month, I saw scant evidence of leadership on wider environmental concerns that affect millions of Bangladeshis, like unsafe water and dangerous working conditions, or on labour rights.
Take water. New research from Human Rights Watch shows drinking water supplies in rural areas are widely contaminated with naturally occurring arsenic, affecting some 20 million people. About 43,000 Bangladeshis die each year from arsenic-induced illnesses like cancer, cardiovascular disease and lung disease. The problem of arsenic in Bangladesh's shallow groundwater has been known for over 20 years, as has the technical response required to avoid it: digging deep wells that reach safe groundwater.
But our research found no sense of urgency on the part of the government in addressing this issue, little or no testing of water, no public information campaign to alert people to the dangers and no focus on arsenic-related illness in village health clinics. Worse still, we found widespread political interference in the locations of new water points.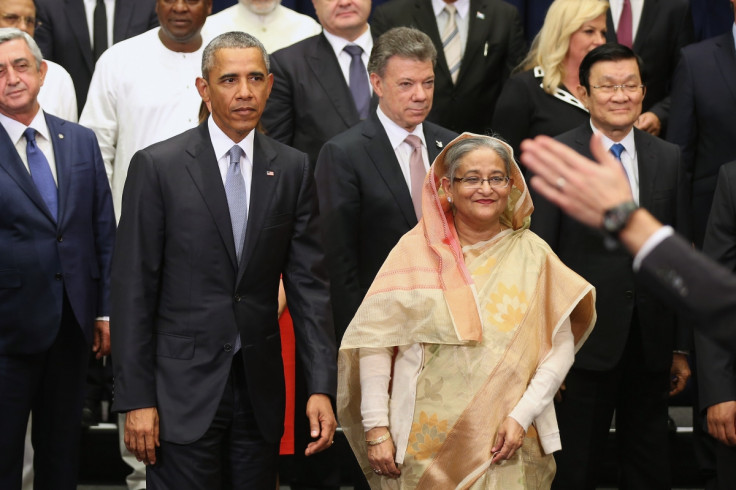 Barack Obama and Sheikh Hasina at the Leaders' Summit on Peacekeeping, 2015
Getty Images
Currently, members of parliament are allowed to choose the location of fifty per cent of new government wells, so wells are often denied to villages suffering arsenic contamination and allocated instead to areas near political allies and supporters, where water quality is already good. Despite the huge numbers of people hit the minister for local Government and engineering, Khandker Mosharraf Hossain, curtly dismissed our findings, brazenly asserting that not a single person had recently died in Bangladesh due to arsenic contamination.
The Bangladesh government has been similarly and shockingly complacent about the grave environmental and health costs of the country's tanneries sector, centred around Hazaribagh – a residential area of Dhaka. Home to most of the country's 150-odd tanneries, it's the heart of Bangladesh's lucrative leather industry, which exports over a billion dollars of shoes, handbags, belts and car seats around the world.
Yet conditions in Haziribagh are appalling. Foul-smelling air hits you the moment you arrive, deep piles of rubbish litter the narrow alleyways between factories and people's homes, and a sinister black toxic effluent pours off the tannery floors and runs straight into the neighbourhood's open gutters. Previous research here found large-scale pollution of air, water and soil, a range of troubling illnesses among local residents, perilous working conditions and the use of child labour in many tanneries.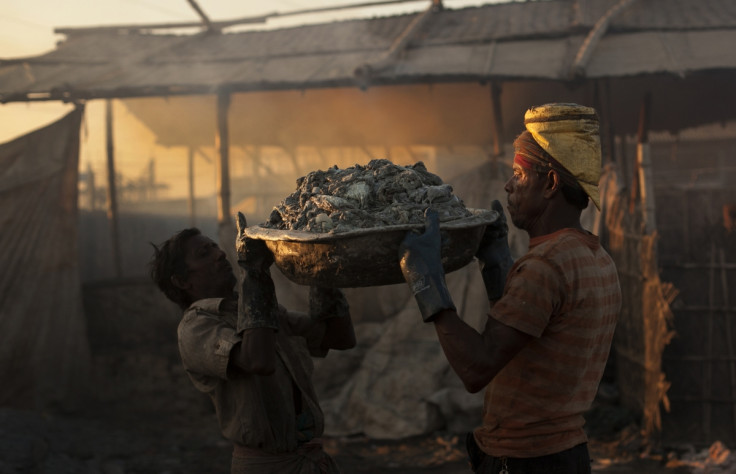 The Hazaribagh tanneries effectively operate in an enforcement-free zone, where environmental and labour laws are suspended to increase export revenues. Successive governments have ignored a 2001 High Court ruling ordering it to ensure that the Hazaribagh tanneries install proper waste treatment systems and relocate the tanneries industry to a new site. This site has yet to be built, and the disastrous environmental and health consequences for the people who live and work in Haziribagh continue.
A lack of leadership is also evident in the government's approach to safety standards and worker protection in the country's textile factories. Three years ago this week, the Rana Plaza factory complex collapsed, killing 1,100 workers and injuring 2,000 more. The unprecedented scale of this disaster led to international efforts, including from major brands that source garments from Bangladesh, to improve factory safety. There has been some progress on this, particularly in those factories covered by safety agreements with leading European and US brands.
But Bangladeshi worker organisations have criticised inspections in factories outside these agreements, which are carried out by the national inspectorate, which they say lack rigour and transparency. And although there is a close link between safe factories and the ability of those working in them to voice their grievances without fear of reprisals, there has been far too little progress since Rana Plaza on labour rights. Just 10% of workers in the garment sector are covered by a trade union, and last year the Bangladesh authorities rejected most applications to set up trade unions.
Across Bangladesh, millions of people are still denied some of their most basic rights – to health, a safe working environment, and clean drinking water. It's time Sheikh Hasina showed greater leadership on all these issues, and for her government to take decisive action to end these injustices.
---
David Mepham is UK Director of Human Rights Watch. Follow him on Twitter @mephamd
---
© Copyright IBTimes 2023. All rights reserved.