Zimbabwe's ruling Zanu-PF party has expelled nine officials from its ranks following a veterans' revolt against President Robert Mugabe.
In a landmark move on 21 July, the Zimbabwe National Liberation War Veterans Association (ZNLWVA), which has supported the long-serving leader since he came to power in 1980 and was known for responding violently to those who oppose his government, released a statement explaining why it was withdrawing its backing for him. The association, which blames Mugabe for the poor economy, said its members would not longer support the president in elections in 2018.
The dismissal of nine officials – including four top war-veterans of the ZNLWVA – come after 92-year-old Mugabe publicly vowed that he would hunt down and punish "severely" the war veterans who published the statement on 27 July.
The four veterans expelled include the association's secretary-general Victor Matemadanda, ZNLWVA spokesman Douglas Mahiya, the association's political commissar Francis Nhando and chairman deputy Headman Moyo, according to state-owned Herald newspaper.
Along with the four Liberation War fighters , Munacho Mutezo – MP for Chimanimani West – was also expelled during Zanu-PF's Politburo meeting on 3 August. It remains unclear who the other five Zanu-PF members are.
"(Mutezo) is no longer a member of Zanu-PF. He can now elect to choose (opposition party) People First or any other party," the ruling party's secretary for Administration Ignatius Chombo, told press after the meeting.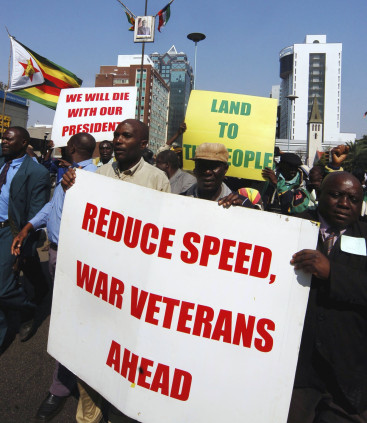 War veterans targeted by President Mugabe
Mahiya was initially arrested on 28 July for criticising the leadership and calling on Mugabe to step down after describing the leader as a "genocidal dictator" in the statement.
Charged with insulting Mugabe, Mahiya was finally released on $300 bail by the Harare Magistrate Courts on 1 August after a hearing attended by prominent figures. These included former vice-president and current leader of the opposition party Zimbabwe People First (ZimPF) Joice Mujuru and South African human rights lawyer and late Nelson Mandela's longtime friend, George Bizos.
Police arrested Matemadanda and Nhando outside the magistrates court, where they had attended the court hearing of their colleague, the Zimbabwe Lawyers for Human Rights reported.
Zimbabwean lawyer Alex Magaisa, a former adviser to ex-prime minister Morgan Tsvangirai, on 2 August told IBTimes UK the wave of arrests "is naturally a response to the crisis that the Zimbabwean government is facing at the moment". According to Magaisa, the recent protests and veterans' revolt have "caused panic in the regime" whose "repression is its typical response".