#ThisFlag movement leader Pastor Evan Mawarire 'will face more death threats'
President Mugabe warned Pastor Mawarire would "rot in jail and be dealt with" upon return to Zimbabwe.
Pastor Evan Mawarire, leader of the #ThisFlag protest movement that has spearheaded largely successful nationwide 'stay-away' days in Zimbabwe will face more threats to his life once he returns to his country, a prominent lawyer has warned.
Since May, the social media campaign dubbed "#ThisFlag" has seen Zimbabwean citizens stay put at home and successfully paralyse the capital Harare in a series of protests against corruption, poverty and abuse of office by President Robert Mugabe's regime, amid fears of "economic collapse" in the nation of almost 16 million.
At first, the government openly ridiculed the #ThisFlag social movement - higher education minister Jonathan Moyo described the campaign on Twitter as a "stinking (...) pastor's fart" — but it has emerged some politicians desperately want to block it, and Mawarire recently admitted to have received death threats.

'They all said 'down with Mawarire'. That is scary'
"If I say to you I am not afraid of going home, I would be lying. The president of the country of Zimbabwe, Robert Mugabe, in the last two weeks, in his last two public speeches, has attacked me," Mwarire told Cape Argus, Cape Town daily newspaper, during his stay in neighbouring South Africa.
Known to have crushed almost all dissent since he ascended to power in 1980, Mugabe, now 92, recently lambasted the movement's leader. In his first comments over the movement's momentum, Mugabe alleged the pastor was causing violence, accusing him of destabilising the nation. He called for Mawarire and his supporters to leave Zimbabwe.
The president added the pastor should not meddle in the politics of the country, and threatened Mawarire and his supporters they would "rot in jail and that I will be dealt with," the pastor explained.
"The very next day, over 3 000 young people marched in support of the president's comments and they all said 'down with Mawarire'. That is scary," #ThisFlag leader said. "All I did was to say to my government: 'There's something wrong. Guys, please help us, there's something wrong.' And I've been asked not to come back home."
Mawarire spent two days in detention in mid-July before appearing at the magistrates court in Harare where the authorities charged him with "subverting a constitutional government". The charge sheet against the pastor was publicised on social media - effectively revealing his residential address. "Everybody knows my address, they know where I stay (...) I cannot go home unless there's a guarantee of my safety. I have a family I need to take care of and think of," Mawarire added.
The campaign leader was released on bail after the magistrates court found security forces to have acted "unconstitutionally" when they arrested him.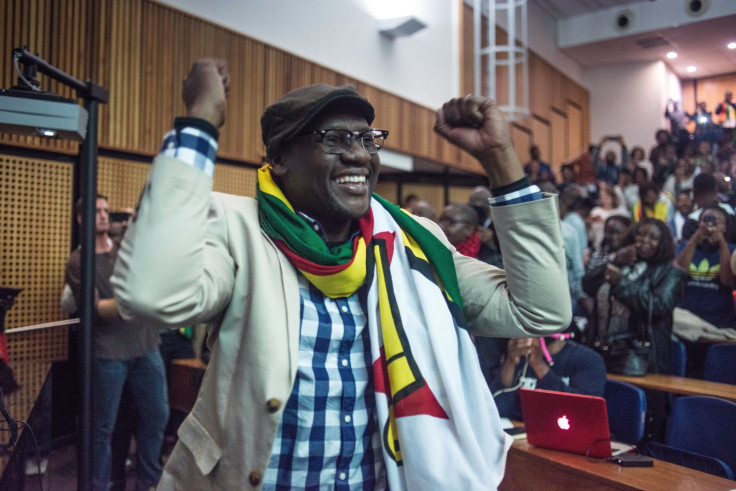 Pastor Evan Mawarire 'will face more threats'
Zimbabwean lawyer Alex Magaisa, a former adviser to ex-prime minister Morgan Tsvangirai, told IBTimes UK there is no doubt that the clergyman, who the regime considers to be the figurehead of the citizens' movement, "has already faced threats and we will face more threats".
"While I agree that pastor is at serious risk of being targeted, this is to be expected by the regime and when you challenge the regime, that is what happens.This is the typical response of the Zimbabwean regime for a very long time," Magaisa explained in an exclusive interview.
"We can never underestimate the degree of threat that he foresees as an individual but having said that, he is not the first person to be in this situation," the lawyer explained, referring to the likes of opposition leader Tsvangirai, who has allegedly endured extreme pain and suffering in the hands of the ruling Zanu-PF.
"He has been charged with treason, beaten to near-death, incarcerated and lost his wife Susan in 2009 (in what Tsvangirai's party believe was an assassination attempt) but Tsvangirai remains in Zimbabwe and he continues with his struggle."
Other people leading the #Tajamuka campaign such as Promise Mkwananzi are also putting themselves at risk, he stated.
Regime 'very careful about showing it is tolerant'
The lawyer welcomed the authorities' seemingly peaceful response to the recent protests - especially after a High Court order barred police from interfering with the protesters following an attempt to block the 3 August demonstration.
However, Magaisa claimed, "one of the reason why the Zimbabwean regime is acting all civil and apparently not using too much force after the initial demonstrations early July is because they realise that they need support from the Bretton Woods institutions" from whom they hope to receive financial assistance packages.
"And these institutions are talking about human rights and governance issues. The Zimbabwean government very carefully knows that it must play both, and this is why it will talk about judiciary independence, restraint to try and show that they are democratic and tolerant," Magaisa added.
"I can assure you that as soon as they get the funds that they are looking for they will resort to (violence), they will not change. This is just the actions of someone who is looking for favours."
© Copyright IBTimes 2023. All rights reserved.