Sadiq Khan is on track for the worst yearly strikes record of any Mayor of London, despite promising during his City Hall campaign that there would be "zero strikes" on his watch, the London Conservatives claimed on Wednesday (22 February).
The latest walkout from RMT and Aslef Underground drivers on the Circle and Waterloo and City lines will be the fourth strike overseen by Khan in his first nine and a half months in office.
The Conservatives estimated that the record gives the mayor a projected yearly average of 5.05 strikes, a strike on the Night Tube would make that even worse.
"Having already broken his zero strikes pledge last summer, the mayor has more recently caved to union demands in a desperate bid to avoid further damaging industrial action," said Keith Prince, the leader of the Conservatives in the London Assembly.
"The unions sense a weak mayor who will do anything to avoid further walkouts and can be bullied into a deal.
"We now have a hugely disruptive strike because eight drivers don't want to move locations from east to central London – a common daily commute for thousands of ordinary Londoners."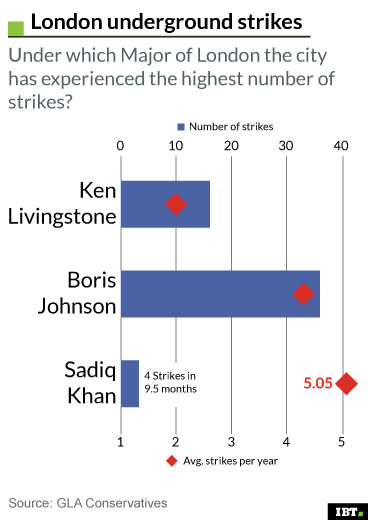 But a spokesperson for Khan hit back at the Tories' claims, branding them as "more desperate nonsense" and pointing out an average of 336 working days a month were lost under Boris Johnson, while a Khan's average has been 200 days a month.
"The number of working days lost to strike action under Sadiq has in fact reduced by 40%, substantially reducing the disruption faced by Londoners," the spokesperson added.
"The mayor is cleaning up the toxic legacy of Boris Johnson, whose last three years included record levels of industrial action.
"Under the Tories' failed approach Londoners would have seen huge disruption across the Tube network in the second week of February. The mayor will continue to put the interests of passengers first, working to reduce the numbers of strikes across the transport network."