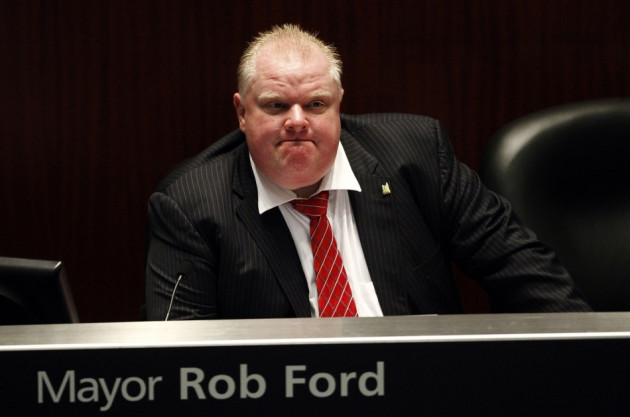 The beleaguered mayor of Toronto said he has given up alcohol in a "come-to-Jesus" moment days after confessing that he smoked crack cocaine during a "drunken stupor".
Rob Ford said he had not had a drink for three weeks. In an interview with the Canadian Broadcasting Corp after Toronto's City Council stripped him of most of his substantive powers, he said: "I've had a come-to-Jesus moment if you want to call it that.
"Just the humiliation and the belittling and the people I've let down. And it's all because of alcohol. Excessive, stupid, immature behaviour and that's it."
Ford, 44, said he had sought medical help. "If you don't see a difference in me in five months, then I'll eat my words," he said.
Ford confessed smoking crack earlier this month following reports that Canadian police had retrieved a video that showed it.
Ford has admitted buying illegal drugs after being elected three years ago but denied being a drug addict. He described the event as an isolated incident.
The video was uncovered during an investigation that led to the arrest of Alessandro Lisi, a friend and occasional driver for the conservative politician.
As claims and allegations against him mounted, the city council acted to strip him of much of his powers, an action he described as undemocratic.
"This is nothing more than a coup d'etat," Ford said.
During a heated council session the mayor knocked down a councilwoman as he rushed charged towards protesters heckling him.
He said that the pushing was an accident.
"I picked her up," Ford said. "I ran around because I thought my brother was getting into an altercation."
"This is the seat of democracy, it is not a football field," McConnell said. "I just wasn't ready."