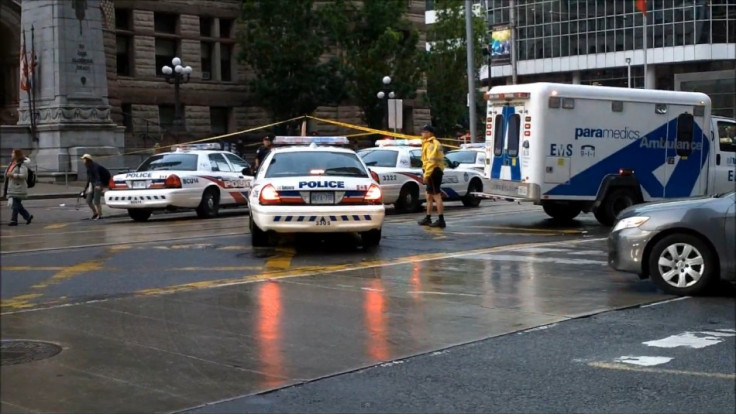 At least one man was dead and seven others injured when a gunman opened fire in a busy mall in Toronto on Saturday evening, according to the police.
The shooting took place at the Eaton Centre in downtown Toronto, one of the busiest and best-known malls in Canada.
The gunman is on the run and yet to be apprehended, according to the police.
The victim who died during the incident was identified as a 25-year old man. Two others including a 13-year old boy are reportedly on a critical condition.
The mall, a popular destination with tourists was evacuated and closed immediately after the incident. Transportation around the mall was also suspended.
Two others in the crowd were trampled and pushed due to panic and one of them, a pregnant woman, went into labour.
"A lot of innocent people were hurt and a lot of innocent people were put at risk. We will be relentless in our pursuit of the individual or individuals that were responsible. We are receiving a lot of cooperation from the people that were present in the foot court," the Associated Press reported the Police Chief Bill Blair as saying.
The police said the shooting was not only dangerous but also outrageous. Blair added that every Torontonian would be shocked and appalled by this crime.
Toronto is considered to be one of safest cities in North America.
People who are present in the food court during the incident said they heard multiple gunshots. Immediately after the gunfire, hundreds of them sprinted towards the exits.
One of the witnesses present at the scene, Bobby Umar tweeted saying, "Someone started shooting in the Toronto Eaton centre. I'm 30 ft away and I see him. I grab my son and dive under the table."
"All of a sudden a herd of people were just running toward us, a massive crowd of people screaming, running, freaking out. We saw this girl, sitting on the ground, and she had blood on her toes," reported the Press Association quoting another witness Hannah Stewart.