David Cameron turned the 2015 general election into a referendum on economic credibility, with almost endless references to his 'long-term economic plan'. The tactic worked and gave the Conservatives a shock majority in the House of Commons.
Zac Goldsmith is employing the same strategy to beat Labour front-runner Sadiq Khan and win the Mayor of London election on 5 May. The Conservative candidate promised to create more than 500,000 new jobs for Londoners as he unveiled his City Hall manifesto on 12 April.
The MP claimed he would generate the job opportunities by building 50,000 homes a year, to protect transport investment and create a skills technology hub, among other commitments.
"I'm determined that all Londoners should enjoy our city's success, which is why I will freeze mayoral council tax and create jobs," Goldsmith declared.
"Under Boris we have recovered from Labour's Great Recession, and my Action Plan for Greater London will build on that success and secure half a million more jobs for Londoners.
'You can only deal with transport congestion, build houses and improve London if you keep the economy strong. That's why the Khan/Corbyn experiment, with the promise of council tax hikes and a £1.9bn black hole, would be so damaging for London."
The outgoing mayor of London, Boris Johnson, also attacked Labour leader Jeremy Corbyn and Khan at the event.
"Zac Goldsmith is the man standing in the way of this dangerous divisive Corbyn/Khan ideological experiment, an experiment that threatens business, and with it the very jobs and growth essential to London's future prosperity," he argued.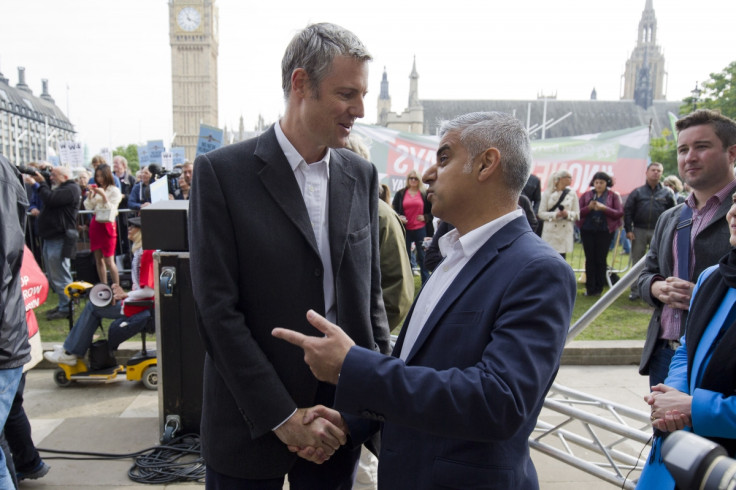 However Khan accused Goldsmith of running a "bleak" offensive. "From day one of my campaign, I've focused on articulating a vision of what our city can be – a place in which opportunity is restored, and all Londoners enjoy the chances that I had to go from a council estate to running for mayor," the Tooting MP argued.
"I've tried to engage Zac Goldsmith in a battle of ideas. I have talked about the issues Londoners care about – the housing crisis, the soaring cost of transport, the cuts to neighbourhood policing – and what the Mayor can do to fix them.
"But instead he has run a negative campaign focused on attacking me personally. Zac Goldsmith's bleak and desperate campaign is typical of the chaos that has engulfed the Tories in recent weeks."
The latest opinion poll from ComRes, of more than 1,000 people between 30 March and 3 April, put Khan ten points ahead of Goldsmith in the second round of voting (55% versus 45%, respectively).