US President Donald Trump's son Eric tried to defend his father's recent controversial comments calling Senator Elizabeth Warren "Pocahontas" by comparing it to Disney, but he was mercilessly roasted for it instead. Trump came under fire this week for poking fun at Warren for saying she is part Native American by calling her "Pocahontas" during a ceremony honouring Navajo code talkers who served in World War II.
"You were here long before any of us were here," Trump told the Native American veterans while standing beneath a portrait of former President Andrew Jackson. "Although we have a representative in Congress who they say was here a long time ago. They call her Pocahontas. But you know what. I like you. Because you are special."
Trump's controversial jab immediately triggered massive backlash with Warren saying it's "deeply unfortunate" that the president can't make it through a ceremony honouring the veterans "without throwing out a racial slur."
However, White House press secretary Sarah Huckabee Sanders argued that the controversial nickname is not a racial slur.
Eric Trump also came to his father's defence on Twitter saying: "The irony of an ABC reporter (whose parent company Disney has profited nearly half a billion dollars on the movie 'Pocahontas') inferring that the name is 'offensive' is truly staggering to me."
Naturally, Twitter swiftly responded to the 33-year-old's "ridiculous reasoning" with a myriad of jokes, comments and memes.
"Ummm, bright eyes, that movie was about celebrating the actual person Pocahontas. Your father using it as a term of derision for a Dem senator in front of heroes is what is offensive," Matthew Dowd tweeted.
"Your dad is taking the name and using it as a slur," one Twitter user wrote. "What part of that do you not get? Just how dumb are you?"
One person chimed: "Dude, long division is staggering to you."
Democratic Representative Ted Lieu wrote: "Dear @EricTrump: The movie "Dumb and Dumber" grossed $247 million. That doesn't mean that if I call you "Dumb" you wouldn't find it "offensive." Get it?"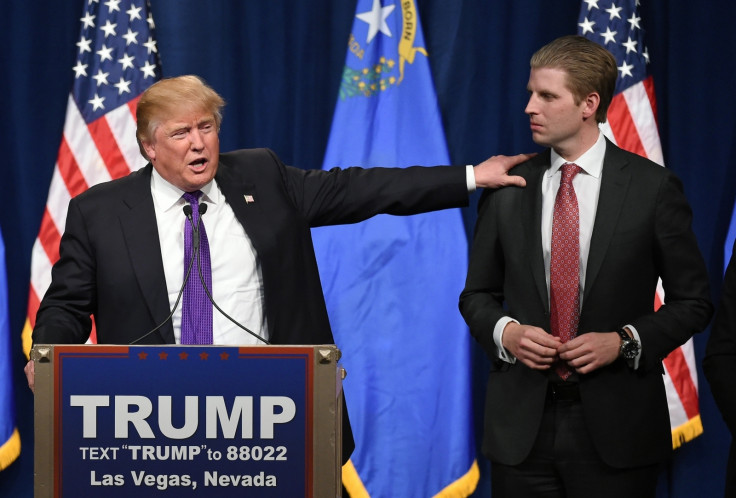 "The idea that we have to ever explain this is MIND BLOWING!" Linsey Godfrey tweeted.