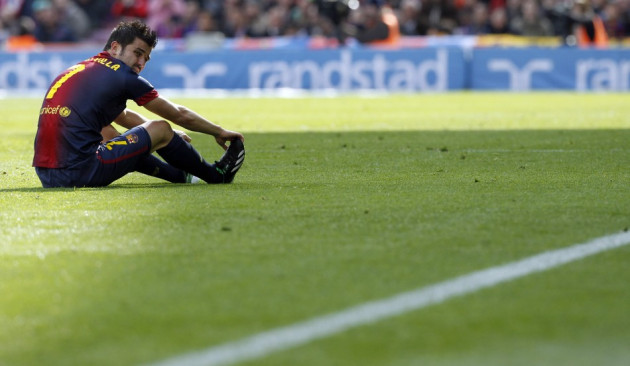 Arsenal and Tottenham Hotspur will have to wait until after the Confederations Cup to discover the future of Barcelona striker David Villa.
Villa has been strongly linked with a move to both north London clubs in recent weeks, with the Spain international looking set for a move away from Barcelona as he continues to struggle since his return from a broken leg.
The 31 year old hasn't enjoyed the best of seasons for the Catalan giants, scoring just 11 times in 39 appearances for the La Liga champions.
However, his reputation as one of Europe's most potent strikes continues to serve him well, and both Tottenham and Arsenal seeking additional attacking resources to improve their Champions League qualifcation hopes, which went to the final day this season.
But Villa insists he will delay any decision on his future, and will enjoy his time with the Spain team in Brazil before deciding on his next move.
"I always try to think of the present," he told the Spanish press. "I will go to the Confederations Cup and try to play a good role there.
"We'll need to analyse many things during the summer and then we'll see. Right now I'm not thinking about anything else than playing football."
Tottenham will be looking to build on their attacking options in the summer, with the club becoming very reliant on Gareth Bale in the second half of the season amid Emmanuel Adebayor struggles in front of goal.
Meanwhile, while Arsenal appeared to find an apt replacement for Robin van Persie in Olivier Giroud and Lukas Podolski, and Theo Walcott found his feet as a central striker, but Arsene Wenger will be well aware that bringing in more depth will help him compete with the Manchester clubs and Chelsea.
Villa's age - with the striker set to turn 32 at the end of the year - could be a negative in his chances of moving to a big club like Arsenal or Tottenham, but the 2010 World Cup winner could go for a modest price of £10m, making him more affordable than other high profile hitmen.