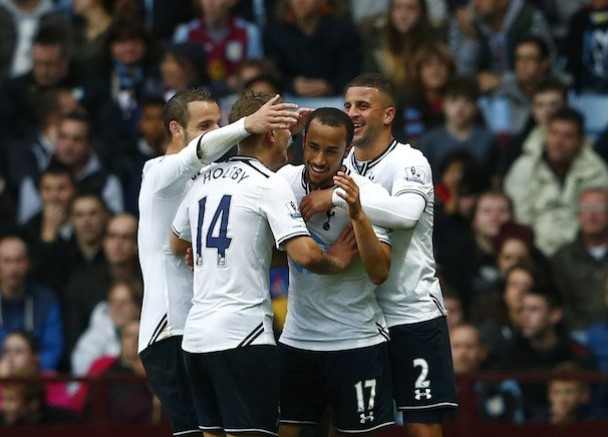 Tottenham have returned to their winning ways with a convincing 2-0 win over Aston Villa with Roberto Soldado scoring his first goal from open play for the side while Andros Townsend was once again the standout man.
Spurs and Villa both began the match with a lack of cutting finish with the north London side unable to capitalise on their 69% possession stat to get any more than three shots on target.
But luckily for the side Townsend's brilliant form has continued with the winger creating a successful chance out of nothing in the 31st minute, with luck being well and truly on his side as he missed his teammates with a shot towards goal and the ball went into the net instead.
Townsend had another chance at goal quickly after sealing what has been a wildly successful few weeks for the man now credited with being a possible replacement for Gareth Bale. If it wasn't for Villa keeper Brad Guzan the England international would have had two goals within 20 minutes and the half came to an end with the north London club up 1-0.
Controversy ensued as a referee's assistant, David Bryan, was hit with a flare in the celebrations of Tottenham's goal. It's likely the FA will look into the behaviour of the fan though there didn't appear to be any lasting injuries with the assistant referee able to continue.
On the pitch Aston Villa seemed to particularly miss the finishing touch of Christian Benteke, who still didn't look fully fit as he warmed up on the bench. The side had seven shots at goal in the first half but none were on target.
Spurs began the second half pushing a counter attacking style of play, with Soldado having his chances in front of the net. As Villa fans chanted for Benteke to come on they eventually got their wish in the 61st minute and with Tottenham still dominating the possession Paul Lambert's men needed more of a danger man on the occasion that they went forward.
And it didn't take long for Benteke to have a chance on goal with his header soaring over the bar in one of his first touches. He seemed to breathe new life into a Villas side looking to equalise, improving their possession and giving them a go-to man in the box.
But it would be Soldado who would score next in the 69th minute, effectively shutting down the game thanks to a beautiful finish from Paulinho's on-target pass.
While Benteke offered a lift to Villa it would prove to come up short for the side, with Townsend also looking dangerous until the final minute and proving he can be just as good for his club as his country.
Townsend said after the match: "It's been one of the best few weeks of my life. The main thing was getting back to winning ways after the defeat by West Ham. We didn't have the best of first halves as Aston Villa defended very well.
"My goal was a cross. I'm not going to take credit for it but it put us on the way to a great three points.
"The main thing for me now is to keep my feet on the ground and not to get too carried away."