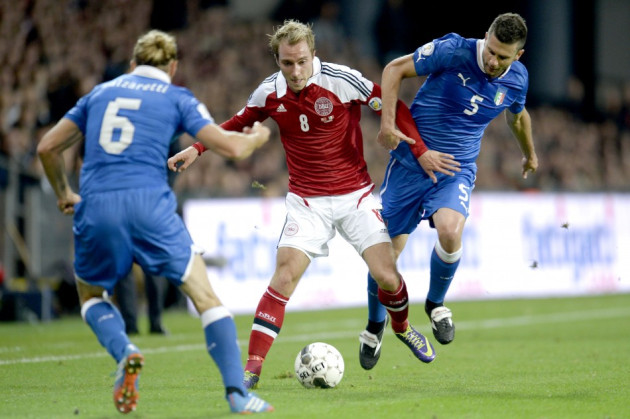 Christian Eriksen has admitted it will be tough for Tottenham to finish in the top four this season but the playmaker insists that the first step in doing so will be to respond to their shock loss to West Ham before the international break with a win at the weekend.
Tottenham were closing in on Arsenal at the top of the Premier League table before they suffered a 3-0 loss to their cross-London rivals at White Hart Lane.
The defeat has been particularly difficult to take as West Ham were struggling for results before putting in a convincing victory against Spurs and with the Tottenham squad now returning from international duty to prepare to face Aston Villa, providing an instant response is of the upmost importance.
Eriksen joined the north London side in the final days of the transfer window and after playing in the Champions League with Ajax he has made a clear goal of taking his new side to the tournament in the 2013-14 campaign.
But he admits it won't be a simple task for a club which have only participated in Champions League football once in their history.
"It's hard," Eriksen told Times of Malta when asked about Tottenham's Champions League hopes.
"At Tottenham we are hoping to achieve a top-four finish. We want to bounce back from last week when we lost 3-0 (to West Ham) and we must get the points."
The 21 year old is currently returning from international action with Denmark where the side failed to qualify for the 2014 World Cup play-off place.
They finished second in the Group B table six points behind Italy, ending their campaign with a confidence-boosting 6-0 win over Malta, but missed out on a last chance of qualification by virtue of picking up fewer points than other nations.
Eriksen, who was a standout performer throughout his side's qualifying campaign, says that he was delighted to end with Denmark on a high note this week even if their final position in the table is ultimately disappointing.
"We wanted to end on a good note and secure second place," the Tottenham man said.
"Of course, we hoped for a miracle but we didn't get it. On Tuesday, we took our chances well as we had to make up for the way we played in Malta because it was really difficult over there (Denmark won 2-1)."