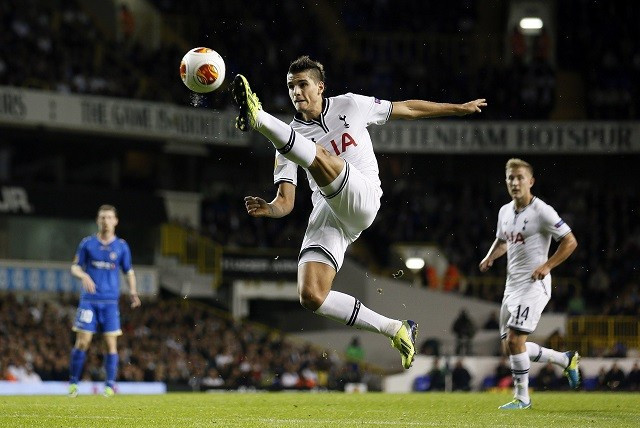 Tottenham Hotspur playmaker Erik Lamela is loving life under new manager Mauricio Pochettino after staging a dramatic U-turn in his career at White Hart Lane.
The north London side made the Argentinian forward their record signing last summer, paying around £26m to Roma as part of a mass overhaul amid Gareth Bale's departure to Real Madrid.
However, the 22-year-old struggled to make the impact expected during his debut season in the Premier League, suffering from injuries and being overlooked by both Andre Villas-Boas and Tim Sherwood.
Pochettino has handed him another chance to prove his worth, with Lamela starting all the six Premier League games of the season and producing performances worthy of his transfer fee.
Speaking with IBTimes UK about the change in fortune he said: "Luckily this year has started in the best way possible.
"But I can still improve. The main difference is that I am physically fit, with no injuries, and that also help me to be mentally better.
"[Having a compatriot like] Pochettino has helped me but he will select the better players and we have to fight for a place in the line-up. I was the one who tried to overcome the situation. I worked hard during the summer holidays, trying to arrive fit to the pre-season and today I fell really well."
Lamela admits last season he struggled due to injury but also blamed Villas-Boas for failing to trust him.
"Last year I arrived to the club when the season had already started, I expected to play but never happened. They are decisions of the coach. And then I had an injury that left me almost out half of the season," he explained.
Some reports had linked the Argentina international with a return to Italy but Lamela claims he never thought about leaving Tottenham.
"I never thought about leaving the club. There were many taks in December and at the end of the season because I wasn't playing but I knew that should I am he physically fid I am going to have many chances to play. Today I am playing and but I still have to keep working."
Meanwhile, while discussing the season's targets, he added: "The target is to finish in the top four to secure the Champions League [spot].
"But the season has just started. We have to keep working and improve. Europe League is also important. Winning a title would be great."