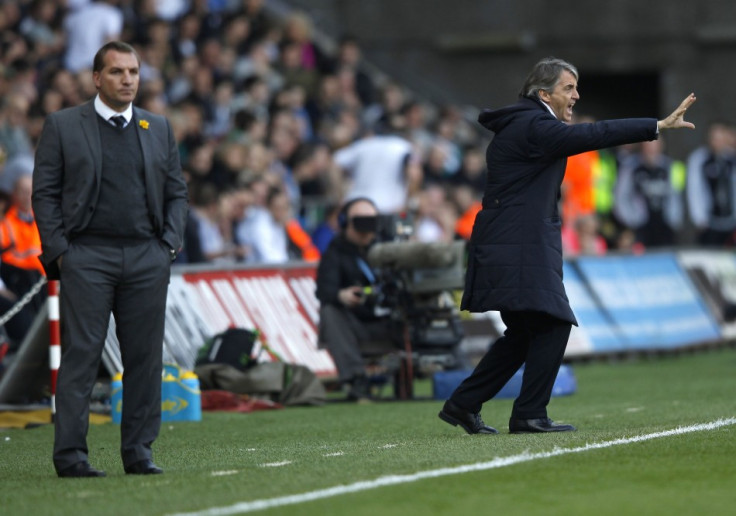 Tottenham are preparing for life after Harry Redknapp as the London club plan a move for Swansea manager Brendan Rodgers, according to a report in The Sun.
It is widely believed that Redknapp will be the next England manager, after Fabio Capello resigned in February. The Spurs boss is yet to be approached by the FA, but he has stated several times in the past that he would not turn down the chance, if approached.
And Spurs are reportedly interested in Rodgers, who is rated highly by pundits, fans and other Premier League managers after the 39-year-old's impressive debut season in the Premier League.
Swansea are currently 10th in the league table in their first season at the top division after Rodgers, who has worked under Mourinho at Chelsea and guided the Welsh club to promotion from the Championship last year.
And Tottenham chairman Daniel Levy has identified Rodgers as his main target to succeed Redknapp, if the 65-year-old takes up the England manager post.
Other contenders include Everton's David Moyes and Spurs legend and United States national team coach Jurgen Klinsmann. But it is reported that Levy is an admirer of Rodgers' attacking brand of football and his intelligent deals in the transfer market and would prefer the Irishman over the others.
Though Rodgers signed a new long-term contract with Swansea, it is believed he would not turn down an offer from Tottenham. It was a similar move that brought Redknapp to White Hart Lane back in 2008, after the manager impressed with his work at mid-table club Portsmouth.