Tottenham manager Andre Villas-Boas believes that his side would be challenging for top spot had they not conceded so many late goals this season.
Spurs threw away a one-goal lead at Goodison Park on Sunday afternoon as Steven Pienaar and Nikica Jelavic scored within 88 seconds of each other to condemn the north London club to a 2-1 defeat.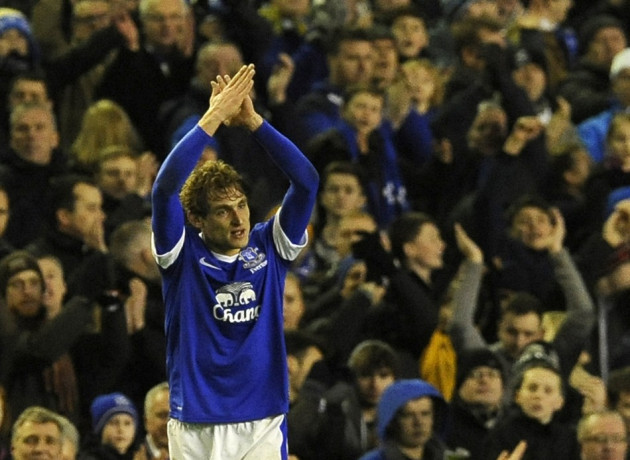 It was the 10th goal that Spurs had conceded in the last 15 minutes of a game; a record that Villas-Boas believes is denying them a chance to compete with Manchester United for top spot in the Premier League.
"It was a disappointing result bearing in mind we were leading taking the game into the last minute," said the Spurs boss, as reported in the Independent. "It has been quite an adventure in the Premier League this season; if we count the number of results that have been going for us before the last minutes we would be first.
"There are so many different reasons. It is not really easy to explain because a couple of them come from different situations. It is something we are aware of, which is why we speak about it openly, and it is something we have to improve, seeing off games.
"It is not a mental thing, it is the nature of the game because it was our best period for quite some time in the second half."
These late goals may come back to haunt Tottenham as instead of competing with the two Manchester clubs at the top of the table, they find themselves just four points ahead of Norwich in 12th place.
They are now 13 points behind Manchester United, while Everton moved above Spurs in to fourth place, and manager David Moyes believes that his side deserved to pick up the hard fought win.
"It is as good a finish as we've had," said Moyes. "We've had a few like that where we've lost and felt low so we were due one. I remember a season where we used to score late goals and win games 1-0 but recently it has not been the case.
"If Everton hadn't won we'd have been saying 'How not?' because we played terrifically well, especially in the first half with Kevin Mirallas and Seamus Coleman.
"We just couldn't find the final pass or touch to finish it off and Tottenham got better in the 15 minutes after half-time, but I thought we had grown into it again when they scored.
"Our poorest period was in the last 10 minutes when we were changing players around and we had tried everything to get an opening, but they kept at it and we got it in the end."