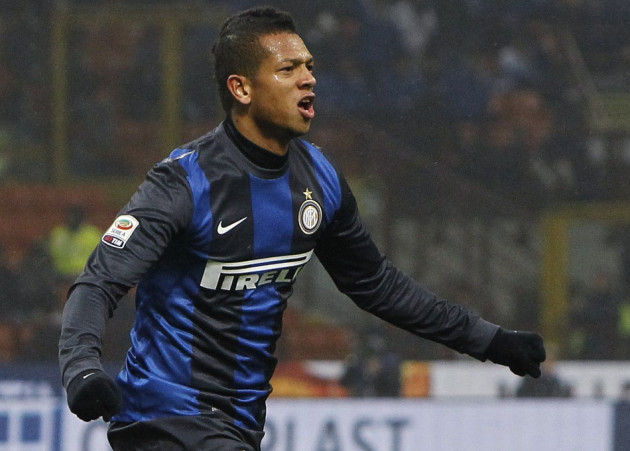 Tottenham have been told to up their bid for Fredy Guarin if they hope to land the Inter Milan midfielder this summer, with €20m not enough to acquire his signature.
Spurs are believed to be in the market for more depth across the board this summer, with injuries undoing their charge towards a top four finish last season as Andre Villas-Boas was presented with a lack of options on the bench.
Guarin has continually insisted he is happy at Inter, but after his performances last season the 26 year old is reportedly on Tottenham's radar.
And Sky Sports Italia are now reporting that Andre Villas-Boas has made a serious bid in hope of being reunited with the former Porto star, but has been told that he is around €5m short of bringing the star to White Hart Lane.
The most Tottenham have ever paid for a player was the £16.75m they handed over to Dinamo Zagreb for Luka Modric in 2008. A bid for Guarin would certainly have to break that record if Villas-Boas wants him to make the move to north London.
While Tottenham can't offer Champions League football to Guarin, neither can Inter, who finished a disappointing ninth in the Serie A table last season.
Spurs collected 72 points over the 2012-13 season, their most successful campaign in the history of the club. But they were unable to secure participation in the top-tier European tournament, falling behind Arsenal by just one point.
Villas-Boas has insisted that the side will seriously strengthen this summer, with their attacking line-up having to rely heavily on Gareth Bale for goals over the course of the campaign due to a lack of depth in the squad.
"Getting 72 points and not making it means that next season to compete at this level we have to make probably more than that," he said as the season came to an end. "The other teams have great great squads and will continue to add quality.
"... Whether we made it into the Champions League or not we would have to raise the bar again because our competitors will do the same.
"We got ever so close. But they will do their job in the window, and we will do ours the Tottenham way, scouting properly and looking for good grabs in summer window to make it a stronger squad."
With Daniel Levy driving a typically hard bargain over the purchase of Guarin, the side might yet wait until later in the window to make another bid if no other clubs are showing serious interest in the Colombia international.