Juventus are keeping a close eye on Christian Eriksen's situation at Tottenham Hotspur and are willing to offer the midfielder a substantial pay rise if he decides to leave White Hart Lane. Gazzetta dello Sport says Eriksen's talks with Spurs over extending his contract have run into trouble due to his demand for high wages, but the Danish midfielder's agent has denied the claims.
Inter Milan are also keeping tabs on the 24-year-old, with new Nerazzurri coach Frank de Boer having previously worked with him at Ajax.
Eriksen has two years left on his contract at White Hart Lane, with the Daily Telegraph claiming that the Dane is demanding £150,000 ($190,000, €173,500) a week as part of his new deal – nearly five times his current wages of £32,000 per week.
However, the midfielder's agent has denied the claims, insisting that his client is "happy" in North London.
"The only thing that I can say is that if money were the most important thing, Christian would not have gone to Ajax at the first place," Martin Schoots told the Evening Standard. "At the time he was 16, we were in contact with clubs like Barcelona, Chelsea and AC Milan.
"And if money were the most important thing, he wouldn't have joined Tottenham three years ago. He had interest from some of the richest clubs in the world. "But Tottenham were the only club he wanted to join, and he is happy."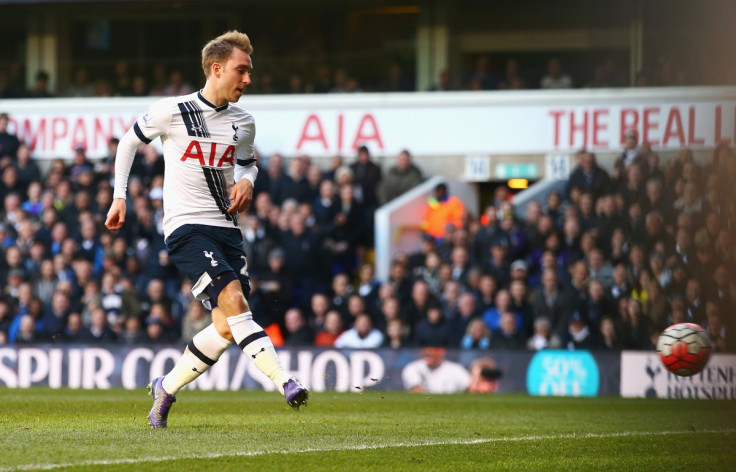 Eriksen made 35 league appearances for Tottenham last season, scoring six goals. He played the full 90 minutes of the club's 1-1 draw with Everton at Goodison Park on 13 August.
Schoots added: "In the eight-and-a-half years that I have worked with Chris, we never made any comments on contract negotiations and we will not make any exception on this, not even confronted by some funny internet rumours."
Eriksen took to Twitter to suggest that reports of his high wage demands were untrue after the Everton match.