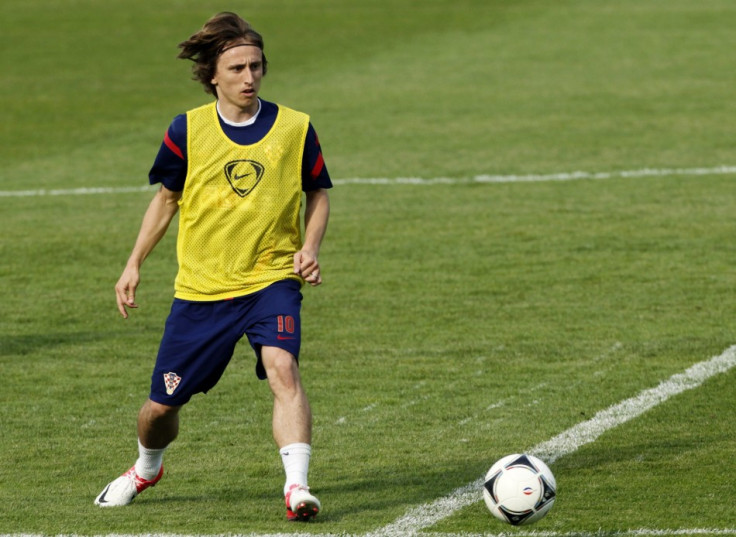 Tottenham Hotspur midfielder Luka Modric is said to be pleased at the number of transfer rumours linking him to high-profile European clubs, including Barcelona and Manchester United; Sir Alex Ferguson is reportedly very keen on the player. Reigning European champions Chelsea were also interested in him last season and made a bid of £40mn but it was rejected by club chairman Daniel Levy.
Nevertheless, Levy may now find it difficult to repeat his heroics of last summer, despite once again putting a £40mn price tag on the 26 year old Croatian international's head.
Part of the reason why many people suggest it will be difficult for Spurs to hang on to Modric this time is the lack of Champions League football on offer. Spurs failed to qualify for next season's tournament and that is a blow that could undermine efforts to hang on to big-name players; this includes Welsh winger Gareth Bale, who has also been linked to Barcelona. Spurs have since reportedly offered him a lucrative new contract to remain at White Hart Lane.
In addition, the dismissal of Harry Redknapp could further destabilise the club and its players, something Modric's national and club team mate Vedran Corluka warned Spurs about.
Modric, who is now with the Croatian national team, will have a first-hand chance to assess Spanish and particularly Barcelona players like Xavi, Andres Iniesta and Sergio Busquets, when he faces them in a critical Group C 2012 European Championships fixture on Monday.
"Of course, I love to hear things like that, but it just motivates me more to play better and show that I can be even more dangerous. This is the match in which all of us can prove ourselves," ESPN quoted Modric as saying.
The player also claimed he would remain focused on national team duties.
"It is a big challenge for all of us to play a team like Spain. Of course, they'll control possession, and for how long, that probably depends on them. However, we have to posture solid in the middle, try to block their play and push them as far from our goal as possible," said Modric, according to a Goal.com report.
The playmaker claimed Croatia would look to dominate the game as well, despite playing the reigning world and European champions.
"As I said before, I'm convinced that there will be periods where we'll be on top. That means that we'll have some chances, and we'll have to take one of them," he added, continuing, "Mario [Mandzukic] is fantastic. He is fast, explosive; the player which can score even from the most difficult situations. But it is important to provide him chances to score."