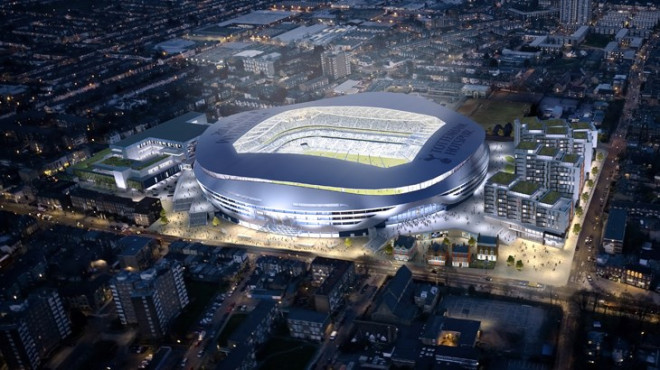 Tottenham may be enduring a frustrating season on the pitch, but the club have reason to be optimistic following the release of its financial results.
The Spurs board posted a profit from operations excluding football trading and before depreciation at £23.4m (€28m, $39m) for the year ending 30 June 2013, £0.4m up from 2012.
Over the past five years, the amount of money generated from operations has averaged £25m per annum. Profit for the year after interest and tax was £1.5m which is up considerably considering that 2012 saw a loss of £4.3m for the North London club.
Despite their inconsistency on the field this season, profits have risen consistently all round, off it. Gate receipts rose by 4% to £22.1m, sponsorship and corporate hospitality revenues increased by 6%, and merchandising revenues jumped by 6%.
Tottenham fans will be further buoyed with the news that Chairman Daniel Levy has announced plans to have a new stadium ready by 2017. The move from White Hart Lane to their new home is expected to cost them around £400m.
Tottenham's current stadium has a capacity of 36,000, and the club will have been pushed slightly into this decision due to the fact that they currently have a waiting list for season ticket holders which extends to over 47,000.
Tottenham currently sit in 6th place in the Premier League, eight points off rivals Arsenal, who currently occupy that much coveted fourth place – the last slot to qualify for the Champions League. With the sale of Gareth Bale last summer, which led to a complete overhaul of the team, fans would have been hoping for much more than what they've seen this year.
After a disappointing first half of the season, out went Manager Andre Villas-Boas and in came Tim Sherwood. And although Tottenham still possess that inconsistency, fans are hopeful for the future.
Sherwood isn't expected to remain in the job over the summer. His wooden approach has made it hard for players and fans alike to adhere to him. But there is a light at the end of the managerial tunnel as esteemed coach Louis Van Gaal has been tipped to take over after his Holland squads World Cup's campaign this summer.
"We are optimistic for the long-term future and believe our efforts will make this great club even greater over time," said trigger happy chairman, Daniel Levy.
A host of expensive flops came in last summer, most notably Eric Lamela and Roberto Soldado, from Roma and Valencia respectively, but the club will be looking to shift them on so that it can fund new signings.
One of Tottenham's biggest problems of recent years has been its inability to sign top-level players. But the news that it is currently turning over a healthy profit means that it now has the financial clout to buy the best.
Block by block, Tottenham is slowly building its status. Money talks in football, and it is allowing Spurs to finally be heard.