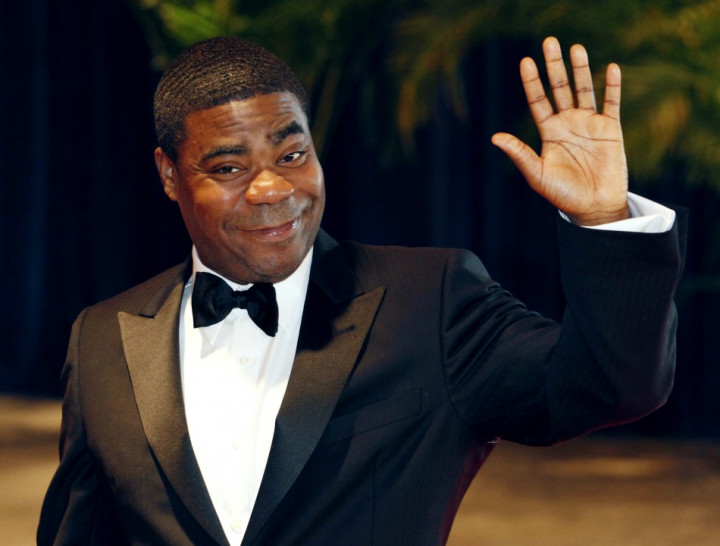 Tracy Morgan has been transferred to a rehabilitation facility as he recovers from a car crash that left one man dead and five others injured.
The 30 Rock star suffered a broken leg and broken ribs in the accident on June 7, when a Walmart truck ploughed into the back of Morgan's limousine, causing it to overturn.
In a statement, the actor's spokesman Lewis Kay said Morgan is showing signs of improvement, but has a long road to full recovery.
Morgan's friend James McNair, 62, of Peekskill, New York, was killed in the accident while Morgan and two other men were seriously injured.
Federal transportation safety investigators have reported that the truck driver was speeding before he slammed into the limousine causing a domino effect collision along a stretch of road where the speed limit was lowered to 45 mph due to construction.
They have released images that show the extent of the damage to the Mercedes Benz limo van comedian Tracy Morgan was riding in when the accident occurred.
The Wal-Mart truck driver, Kevin Roper was charged with death by auto and four counts of assault by auto on June 7. He has pleaded not guilty.
Investigators will be considering whether Roper had exceeded the permitted 11 hours behind a wheel.
The CEO of Walmart Bill Simon has said that if it is proven one of his company's trucks was involved in the fatal smash "Walmart will take full responsibility." Simon pledged the company would "'do what's right for the family of the victim and the survivors in the days and weeks ahead."
Morgan found fame on the sketch-comedy show Saturday Night Live in 1996. He went on to play a caricature of himself, on the hit show 30 Rock.
The star's celebrity friends have posted messages of support and prayers for his recovery on Twitter.