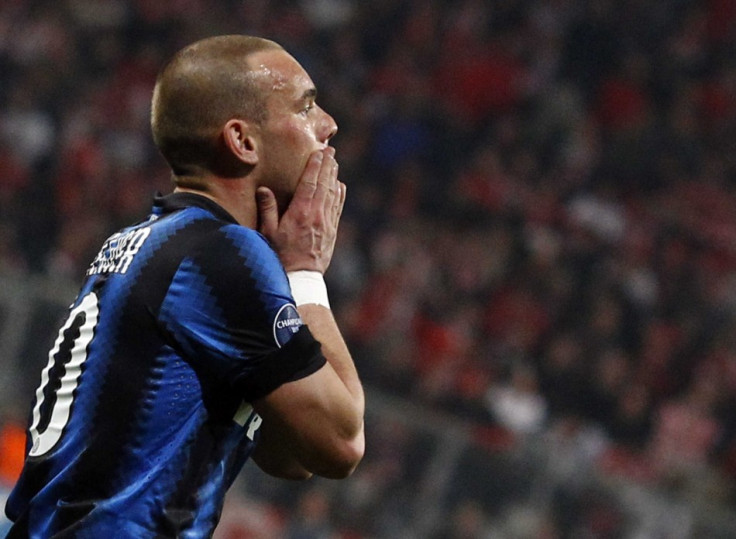 All the latest transfer deadline day rumours involving AC Milan, Juventus Inter Milan and AS Roma. AC Milan has rejected talk that Antonio Cassano will be leaving the club whilst Wesley Sneijder has said he will not be joining Manchester United on deadline day. AS Roma have signed Fernando Gago from Real Madrid and have left the door open for Daniele De Rossi to join Manchester City. Juventus has confirmed the signing of Eljero Elia from Hamburg.
According to reports from Goal.com Antonio Cassano rejected a move to Fiorentina this summer.
Cassano is said to want to stay at the San Siro and prove himself this season and turned down the opportunity after a bright preseason that has seen the striker move up the striking pecking order at Milan.
ESPN has reported that Manchester City have failed in a bid to sign AC Milan midfielder Mark Van Bommel.
The 34 year old was the subject of a January bid and Roberto Mancini reignited his interest in the player this summer but AC Milan turned down the bid explaining that van Bommel was not for sale under any circumstance.
Manchester City first tried to sign me last winter, they were one of the clubs interested in me, so their interest has not come out of the blue," van Bommel told Voetbal International.
"But Milan has a very clear position and I am perfectly happy to live with that, my family feels at home here. I feel good as a footballer here and feel fully appreciated," The Dutch international added.
Goal.com has revealed that Juventus have signed Dutch winger Elijah Elia.
Juventus have confirmed that they have signed the play for an initial £7.3 fee. A statement on the club's official website reads: "Juventus Football Club S.p.A. announces that the agreement with Hamburger Sport-Verein e.V. for the definitive acquisition of the registration rights of the Dutch player Eljero Elia has been finalized.
"I want to carry on developing and now I have to take my career to the next level," Elia said of his move.
"I hope this happens at Juventus. I know plenty about Juventus and they have won many domestic and European titles. They are the biggest club in Italy," he continued.
AS Roma owner Thomas DiBenedetto has revealed that the club will not pressure Daniele De Rossi to stay at the club. De Rossi has been wrangled in contract negotiations all summer and it has been suggested that Manchester City are ready to make their move if they get signals from Roma and the player that they are willing, and De Rossi wants to move to Manchester City.
Wesley Sneijder has slammed shut any potential deal taking him to Old Trafford today reports the Daily Star.
The newspaper claims that Wesley Sneijder has said that he will not be leaving the San Siro on Wednesday, claiming that Inter Milan sold Samuel Eto'o instead of him to raise transfer funds.
"I'm staying at Inter. I don't think I'll leave at this moment of the market. It was either me or Eto'o to leave Inter and since he has now gone, there is no need for Inter to sell me," Sneijder said.